"Just Throw Like Joe"
February 27th, 2013
Former Bucs quarterback Jeff Carlson (1990 & 1991) writes The QB Blast column here at JoeBucsFan.com. Joe loves when Carlson fires away. Carlson is often seen as a football color analyst on Bright House Sports Network, and he trains quarterbacks of all ages locally via his company, America's Best Quarterback. Plus, he's a really cool dude.
By JEFF CARLSON
JoeBucsFan.com
Joe Flacco has one more season of experience on Josh Freeman, but five more playoff seasons and now a Lombardi Trophy on the shelf and a Disney Parade, too.
He is now expected to become the highest paid QB in the league while the Buccaneers ponder what they should do about Freeman's future with the team. Flacco isn't a better passer than Freeman because of his team's fabulous finish, he has been a very accurate passer over his career because of very solid passing mechanics and great balance.
His alignment is better than most in the NFL. Josh Freeman's alignment is one of the worst.
Freeman rarely, if ever, gets his front shoulder on the line that he wants the ball to travel. That is one of the reasons he throws quite side-armed so often. He pulls his left shoulder and left hip off target earlier than he should, causing the ball to be released further back, while Flacco (as well as Aaron Rogers, Tom Brady, Matt Ryan, Eli Manning, Drew Brees, Andrew Luck, RGIII, Russell Wilson and others) keeps himself lined up and allows himself to reach out straighter to his target, thus creating more accuracy on his throws. Inaccuracy is a key criticism of Freeman.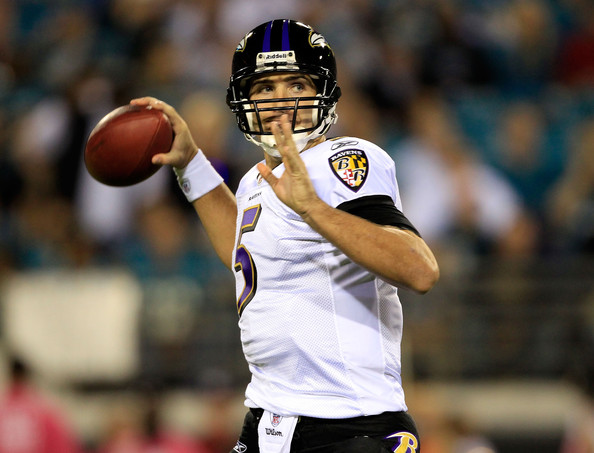 There are quite a few other things that I would like to see new Buccaneer QB Coach John McNulty clean up with Freeman's mechanics, but improving the alignment of his shoulder and hip to his throws is probably the most impactful thing he can do for improving his accuracy all over the field.
To keep it simple, Freeman's mantra moving forward should be, "Just throw like Joe."