Gavin Escobar And The Bucs
February 28th, 2013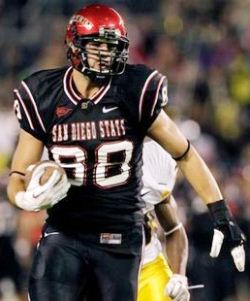 Though Bucs rock star general manager Mark Dominik believed it was too early to rank these future tight ends, NFL Network draft guru Mike Mayock believes three tight ends are virtually tied and all could be drafted from the first to the second round.
The three? Notre Dame's Tyler Eifert, Stanford's Zach Ertz and San Diego State's Gavin Escobar.
If the objective is to get Bucs quarterback Josh Freeman more toys than FAO Schwarz on Black Friday in order for him to consistently succeed, then an upgrade to a pass-catching tight end would surely fit the bill.
This is no knock on Dallas Clark, the Bucs' incumbent and free agent tight end, but Clark has seen his best days in the NFL come and go.
One huge unknown to many Bucs fans is Escobar, who played in obscurity at San Diego State but is already an NFL-caliber pass catcher some liken to the Packers' Jordy Nelson (yes, Joe knows Nelson is a wide receiver).
Escobar, who is entering the draft after his junior year, believes his lack of blocking or perhaps need to improve his blocking is overblown, Escobar said at the NFL Scouting Combine over the weekend.
"I think some people look past my blocking ability because of my pass catching ability," Escobar said. "It's something I'm willing to do and I'm always working hard to get better at.

"The feedback I've been getting from most teams is they like my pass catching ability. They're a little concerned
with the run game. I've been trying to tell them I'm willing to do that and I've been working hard at that, and over time I can only improve."
Of course, lighting up defenses in the Mountain West will be a bit different than trying to expose the seam route in the NFL, but playing in that conference didn't hurt Doug Martin or Andy Dalton.
Could Escobar be there at No. 45 when the Bucs pick in the second round? Perhaps.
This is why this draft is so intriguing to Joe. Without knowing what the Bucs will do in free agency, Dominik could draft at virtually every position other than quarterback, defensive tackle, wide receiver, running back, guard and center in the first round, and it would make sense.
Again, if Dominik drafts a pass-catching tight end who to improve his blocking, Joe trusts offensive line coach Bob Bostad can rectify that issue.