It's All About Attitude, Not 'Tude
February 13th, 2013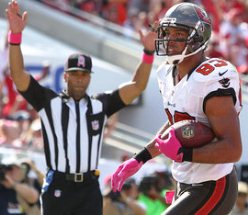 Joe always gets a chuckle how some fans want players with "swagger" or a "'tude," which are code words for being a punk or a jerk.
Players can holler and scream all they want. The NFL is not the WWE. It's not about posers, but about players, execution, fundamentals, discipline, X's and O's.
But there is something that is valuable called "attitude," a word Vinny Iyer brought up often in his chat with Joe. The NFL editor for The Sporting News told Joe during Media Day of Super Bowl week that an attitude Greg Schiano brought to the Bucs is one reason why the team is changing its fortunes.
JoeBucsFan: Your overall review of Greg Schiano's first year with the Bucs?
Vinnie Iyer: He has been very disciplined in his approach and that is what they needed. That is usually what happens when you have a guy like Raheem Morris who was a player's coach and kind of lost the discipline, especially at the end of the [2011] season. [Schiano] has brought that [discipline] along with a toughness and an attitude. He also brought in some of those types of players like Carl Nicks and Vincent Jackson, veterans who work hard and are not only an example, but very talented.
Joe: Well, talk about that. How key was that? You had all these young guys who had a coach who, in some cases, would go out for beers with players and all of a sudden you drop in some players who not only are workaholics, they are some of the best at their craft.
Iyer: That is key. You lead by example. You have a guy like Jackson, when you are that talented, that big and that explosive but you are also a guy who works the hardest, it trickles down to everybody else.
Joe: That is interesting because Mike Williams raves about Jackson and all but points to Jackson as being his big brother, how he helped Williams learn to take proper notes in position meetings and many other little things.
Iyer: Well, not just that but Jackson helps Williams on the field as well. You have a guy like Jackson who draws double coverage on one side of the field and it allows Williams single coverage and that is why you saw so many big plays from him. But what helped the Bucs is the attitude [Dominik and Schiano] brought it. You bring in Mark Barron, Doug Martin, guys that are just tough, won't go down. It doesn't matter what the size is of their opponents, they go after it.
Joe: You are looking at one of the few — maybe only — writers who has been pimping Bryan Cox as a hidden treasure. He coaches the front seven and that front seven went from the worst in the NFL in rush defense to the best, and really only added one player, Lavonte David. It seems Cox had a major hand in transforming that front seven. They went from atrocious against the run – and that word doesn't really describe how bad they were – to lockdown. It was stunning.
Iyer: Well, you have to have an enforcer. And if you are going to have an enforcer on your staff whether that is a defensive coordinator or someone on your staff, to get that message through, someone working directly with the players who can get that message through, not too many people better to get that message through than Bryan Cox, and that has to be an overlying theme.