Don't Expect A Barber Return To Cornerback
February 14th, 2013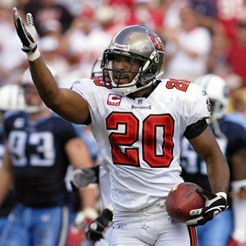 Bucs fans experienced a rare happening last season, one that's only happened a small handful of times in NFL history.
Longtime and should-be Hall of Famer Ronde Barber, who if he returns to the Bucs this season will be play in his 17th NFL campaign, all with the Bucs, was moved to safety and performed well and damned near made the Pro Bowl at age 37.
Not too many guys playing a new position at 37 make the Pro Bowl. It was a fabulous feat for a guy who is (was?) in the twilight of his career.
No one knows if Barber will play one more year. By now, Joe is guessing Bucs coach Greg Schiano and Bucs rock star general manager Mark Dominik have already had brief, casual conversations with Barber about what the near future holds for him.
If he returns, Tampa Tribune Bucs beat writer Woody Cummings suggests it won't be at cornerback, so he explained in a TBO Bucs Q&A.
Q: Is there any chance Ronde Barber moves back to corner, if, say, the Bucs decide to take a safety in the first round? It would be killing two birds with one stone.

Sam Massey, Edgewood, NM

A: Such a move might make some sense, but if the Bucs really wanted to do that I have to believe they would have done it a year ago when their depth at corner was so compromised. The Bucs believe the Barber-to-safety experiment worked very well for them last year, so I'm going to say at this point that he'll remain a safety playing primarily in the box.

– Woody Cummings
Cummings makes a great point Joe's made previously. As horrid as the Bucs were at cornerback last year, pulling guys off the street when the Adderall twins, Eric Wright and the Mel Blount of our time, Aqib Talib, were unavailable, the Bucs could have moved Barber back to corner and probably have gotten solid play from him and Ahmad Black at free safety. But the Bucs did not do that.
So if the Bucs wouldn't move Barber back to corner when they were desperate for bodies, why would they when the Bucs surely will have an upgraded cornerback stable in 2013?
Joe also found it interesting last year that corners walking the streets got playing time at ahead of three-year Bucs cornerback Myron Lewis.
Ah, but that's a post for another day.