Not An Average Joe
February 13th, 2013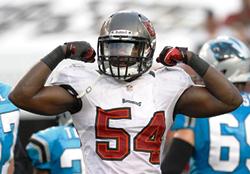 Hey look, in many ways, Joe's an average guy. He loves nothing more than sitting on his leather couch swilling copious amounts of domestic, mass-produced cans of beer just hoping the Bucs win and maybe, perhaps, hitting the lottery with Rachel Watson (Powerball, that is. Not a $1 scratch-off).
USA Today decided to look at what it calls "No Average Joes," players that may not be households names, under-the-radar types who should be and likely will be in the NFL, specifically players under 25.
And the Bucs landed one on that list. That would be linebacker Lavonte David.
Bravo. Lavonte David (Buccaneers): Just maybe the guy to finally take up Derrick Brooks' mantle in Tampa. David's 20 tackles for a loss nearly set a rookie record.
Well, Joe isn't about to call David the next Brooks quite yet. A strong rookie season does not make a career, and you can bet NFC South opposing coaches are already hard at work trying to find schemes to minimize David's impact.
Joe just knows that David is a stud. When Joe spoke with NFL movers and shakers at Media Day during Super Bowl week, every time Joe mentioned David's name, their eyes grew big and their faces lit up.