Why Can't People Do Easy Research?
February 28th, 2013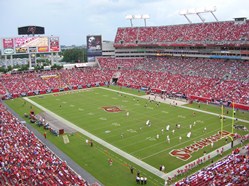 Joe tries not to lose his cool over idiotic things, but there is one subject that just drives Joe up a tree.
This utter, imbecilic nonsense of the Bucs moving — to Los Angeles of all places!
Once again, this subject was brought up in an ESPN NFC South chat and someone that should know better didn't exactly throw water on the flames.
Corey (greensboro)

Pat I was wondering why are keep hearing of Panthers moving to LA. But yet we don't hear anything about the Bucs moving to LA when the Bucs are not able to sellout games.

Pat Yasinskas

Bucs aren't looking for a new stadium or renovations — at least not yet. That's when LA stuff always surfaces.
Now Joe isn't Donald Trump or Bill Gates but he is a businessman; small, yet a businessman. So let's do some simple Economics 101 to determine why a few thousand non-premium seats short of a sellout most weeks is, frankly, irrelevant (unless you're an NHL team that gets a majority of its revenue through ticket sales, or if your mind is still stuck in the 1970s, when ticket sales, not luxury box sales or concessions, meant everything to all sports, and you can't figure out why your rabbit ears won't pick up "Happy Days" on the 29-inch console TV any longer)?
Let's say the Bucs are 5,000 short of a sellout each game and, to use round figures, each ticket is $100. That's $500,000. Multiply that by 10 home games (including preseason) and it is $5 million.
Sounds like a lot, right?
Well, just on revenue from national TV and radio broadcast rights alone, per Forbes.com, the Bucs and every NFL team will receive $200 million annually starting in 2014.
This is before one luxury box is sold, one corporate ad is sold, one ticket is sold, one car is parked in a dust-choked lot, one jersey is sold, one cap is sold, one beer is sold.
Upgrades to the stadium you say? They are coming soon. Per the voter-approved referendum to build the stadium, some upgrades were written into the lease. Oh, and if anyone would just do a modicum of research, the lease between the Bucs and the Tampa Sports Authority is public record. Read the lease and it's clear the Bucs are going nowhere.
Why is Joe so confident? Well, let's take the far-fetched, moronic notion the Bucs will move to Los Angeles. Team Glazer isn't building a stadium nor are the citizens of Southern California. Rather, it is big-moneyed businessmen. These movers and shakers are not financing a $1 billion stadium for charity. They are going to want to either own the Bucs outright or a chunk of the Bucs. How many times has Team Glazer stated that the team, not even a piece of the team, is not for sale?
Where would the Bucs play, in the parking lot of the Staples Center? No, don't start with the Rose Bowl or the Coliseum. Neither of those stadiums are fit for an NFL team and to renovate them would cost nearly as much as a brand new stadium.
You think Team Glazer is going to pay for that when they have a sweetheart deal here? And Joe hasn't even factored in the business-hostile taxes in California that have driven many companies to relocate out of the state.
No, this isn't the 1970s any longer. Economics have changed. It doesn't matter how many thousands of tickets are sold, so long as corporate partners are still paying for ads and more importantly, eyeballs are glued to TVs to watch the NFL.
It really doesn't take an economics professor to figure this out if Joe can run the numbers.