Bucs Sending Coded Messages To Freeman?
February 4th, 2013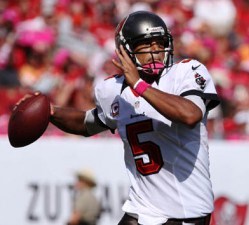 It seems even before free agency starts and the combine hits, Bucs rock general manager Mark Dominik has been busy. If the way one former Bucs player who wears Super Bowl bling is seeing Dominik work, Bucs quarterback Josh Freeman should be very concerned.
Yes, we all know Bucs coach Greg Schiano said Freeman, who battles with inconsistency, needs competition. Whether that means a potential starting quarterback will be brought in to push Freeman or that's an upgrade as a backup quarterback, that remains to be seen.
But it's the unspoken about is what has former Bucs defensive tackle Booger McFarland raising an eyebrow. Just recently, Vincent Jackson had his contract reworked, largely to free up some spending cash. Now, fellow receiver Mike Williams looks like he will have his contract reworked.
These moves, McFarland said on the show he co-hosts with Rich Herrera on WHFS-FM 98.7, are strongly coded messages that it is time for Freeman to fish or cut bait, so he said in his daily "Five at Five" segment.
"Well, Mike Williams, is up for a contract, so say the Buccaneers, they will give Mike Williams a new contract. Won't be what Vincent Jackson has, maybe half that. If you are Josh Freeman siting across the locker room, there is a receiver – two receivers – who depend on you to get them the ball and they are both getting new deals. Not sure how you feel Josh Freeman but I know how I feel. I tell you what, I feel that you better play better or that feeling you feel now, you will feel that somewhere else."
At least on face value, this sort of makes sense. Normally the Bucs were talking about how they had to have cash stowed away under the salary cap to make room for Josh Freeman's contract, which will be/would be hefty.
Joe doesn't hear that much talk about Freeman contract of late. Just guessing and this is nothing more than a hunch, but this coming season not only will answer where Freeman will be living in the near future, but also just how rich of a young man Freeman will become.