Davin Joseph Wants A Complementary RB
February 4th, 2013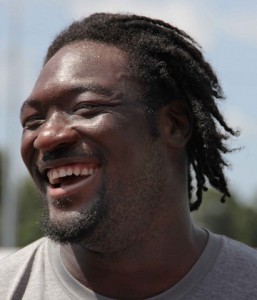 Much like Super Bowl champion Ray Rice, Doug Martin proved last season that he's a true bell cow running back. And Martin doesn't cough up the ball like Rice.
Beastly Bucs guard Davin Joseph saw Martin do it all from the sidelines, but Joseph wants two backs to carry the load, so he told Steve Duemig of WDAE-AM 620 last week.
"When he's such a gamechanger like that, you just got to get the ball in his hands," Joseph said of Martin. "In my opinion, I think we really need a complement back, but he's a guy that he don't have to really run the ball as much. He can also catch the ball out of the backfield, run the screen game really good. And he can just be an all-purpose kind of back that can really change the game for us. "
This was very interesting to Joe because last summer Joseph said LeGarrette Blount was his favorite running back. Perhaps Joseph wants to see more of Blount? Or perhaps Joseph is envisioning a new running back in the mix? That was unclear.
With Rice in his prime, the Ravens went out and invested a third-round pick in RB Bernard Pierce last season and gave him 108 carries during the 2012 regular season, plus a big load in the playoffs. Might the Bucs follow the same model, given their apparent lack of confidence in Michael Smith and Blount?
Joe can't argue with Joseph's take. Martin can't be pounded forever, and a complementary back, if successful, will present additional problems for a defense.
Joe thinks Blount could be that guy. But if the Bucs opt for a different backup in 2013, they're still going to have to give the guy carries to make it work.