Doug Martin Never Hit The Rookie Wall
February 4th, 2013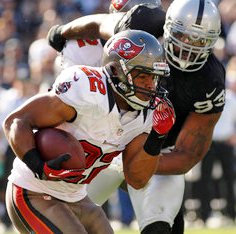 Bucs Pro Bowl running back Doug Martin was trying to relax amid the chaos of Super Bowl week in New Orleans, but the NFL and others were putting Martin to work on radio row where Martin dropped Friday by to talk to Joe's good friend, "The Big Dog," Steve Duemig of WDAE-AM 620.
Duemig asked Martin how he was able to manage going through the dreaded rookie wall last year and Martin, as he said several times during the season, he had yet to hit that wall. But he also told Duemig not to dismiss the wall. Whiile he wasn't affected, it does exist and can flatten other rookies.
"It is such a long season for rookies," Martin said. "You have to train for the Senior Bowl and then the combine and after that pro days and then fly all around for the [private] visits [and workouts with individual NFL teams] and it is stressful on your body.
"And then you have to play a whole season of NFL football."
When the Bucs hired Greg Schiano as head coach and subsequently drafted Martin, the Boise State product said he started doing research on how Schiano uses running backs and found he likes to have one guy carry the water.
Having an advance understanding of what to expect helped him psychologically get ready for the NFL season, Martin said. "I kind of expected it. I was ready for it mentally."
To hear the entire interview, click on the little button below.