Bucs Dump Member Of Fearsome Foursome
February 8th, 2013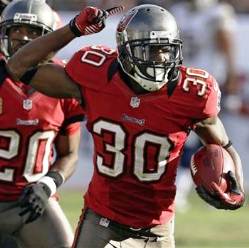 Among Joe's more painful moments of the 2012 season was Greg Schiano's November reference to "E.J., Leonard, Danny and LeQuan" when talking about his key cornerbacks.
Joe was sobered up immediately upon hearing that. That fearsome foursome only struck fear in the hearts of Bucs fans. And it's no surprise they helped lead the Bucs to early January tee times after a 6-4 start.
Now, one member of the fearsome foursome is gone: LeQuan Lewis, so Twittered Bucs beat writer Woody Cummings yesterday.
Joe suspects Lewis is an early casualty of postseason film analysis. Rockstar general manager Mark Dominik already has praised E.J. (Biggers), Leonard (Johnson) and Danny (Gorrer), so Joe believes those guys are safe, assuming E.J. isn't in high demand on the unrestricted free agent market.
Lewis can't complain too much. The Bucs gave him a shot as their No. 1 return man and in the secondary. He just couldn't make enough happen.