Damontre Moore And The Bucs
February 7th, 2013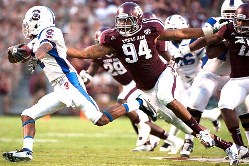 Joe isn't a big mock draft guy in that Joe's not big on the mock draft types –who grow to an insane level in the final days leading to the draft — talking about guys "rising" and guys "falling."
Bulls(p)it! This isn't the New York Stock Exchange. If a team doesn't have its draft board set by the end of March, there is something seriously wrong. Guys don't rise and slide in late April much less the middle of February, barring getting pinched for a felony.
And putting together a mock draft before free agency — March 12 boys and girls — is akin to having a few beers and playing darts. Fun, but slightly more productive than useless.
For example, Joe pays about two percent attention to Mel Kiper's mock draft. Currently, he has the Bucs selecting Notre Dame inside linebacker Manti Te'o. Come 'on Mel, at least put a little thought behind your weak attempts, huh?
Another BSPNer, Todd McShay, another dubious source, has the Bucs selecting Texas A&M defensive end Damontre Moore. At least McShay put some thought behind this.
Now none of the draft gurus at NFL.com have Moore slipping below No. 6, and the Bucs pick at No. 13. That's within range of a less-than-painful trade up by Bucs rock star general manager Mark Dominik if so inclined.
Bucs insiders have hinted that if the Bucs believe there is a pass rusher sitting at No. 13, one the team believes could give the Bucs an immediate impact, the Bucs would pull the trigger on said player. Also, given Dominik's history of drafting defensive linemen, Moore somehow winding up with the Bucs isn't an absurd thought.
Look, do the Bucs need cornerbacks? No question. Sadly, there are no elite corners this season but corners are three rounds deep Joe is told, meaning there is very good value at corner later in the draft than at No. 13.
Yes, some would suggest Alabama cornerback Dee Milliner is worthy of a high pick, but Joe heard former Bucs quarterback Shaun King (you know, one of only three Bucs quarterbacks to lead the Bucs to an NFL Championship game?) say that if Milliner was in last year's draft, he may have been the third or fourth cornerback selected and the only reason Milliner is considered a high first round pick is because NFL teams are irrationally desperate for cornerbacks.
So the more Joe thinks about Moore coming to the Bucs, it really isn't that far-fetched.