Weed Charge Against Ahmad Black Was Dismissed
January 23rd, 2013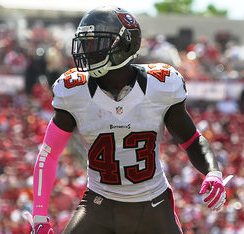 Ahmad Black is inhaling and exhaling comfortably these days.
Hillsborough County Court documents reveal that the first-degree misdemeanor charge of marijuana possession Black was slapped with in late October following a Tampa traffic stop was dismissed Jan. 7.
In December, Black's attorney filed motions to "suppress illegal stop" and suppress statements made to police by Black, in addition to a motion to dismiss the case.
Following a Jan. 7 meeting with Judge Eric Myers, an assistant state attorney, and Black and his two lawyers, Myers dumped the case.
Joe hopes Black celebrated responsibly. And hopefully, the only green he has his hands on next season is an Eagles jersey.