Black's Exit Would Have Little Impact
January 23rd, 2013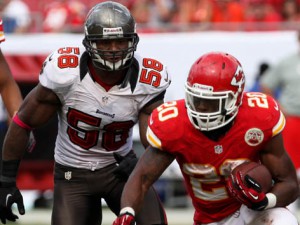 At a cost of roughly $6 million per season, Quincy Black has been one massively overpaid dude over the past two years. And Joe fully expects the Bucs to part ways with Black, or at least renegotiate his contract.
Black wasn't missed significantly when he was lost for the season with a gruesome neck/nerve injury, which will send him to the surgeon's table at the end of this month, so reported the Tampa Bay Times yesterday.
Angry Adam Hayward filled in admirably at strong side linebacker, though perhaps the stress of starting led to him shoving Bryan Cox on the Bucs sidelines, a heinous act that in Joe's mind was swept under the rug faster than Joe tosses empty peanut shells at a Rays game.
Joe wishes Black well, but the good news is that ditching Black, even if he's unable to play football in 2013, won't cost the Bucs much and will open up even more money for them to go shopping when the free agency bell rings in March. The Times' Stephen Holder explained.
The Bucs' first concern is Black's health, but eventually they might face business decisions. If Black isn't likely to play in the foreseeable future and the Bucs release him, he would be eligible for $1 million in injury-protection pay in 2013. If his injury impacts his ability to play in 2014, the Bucs could be on the hook for $500,000 more. Those sums do not count against the salary cap.
Joe hopes Dakoda Watson can step up and fill in for Black, but Joe isn't counting on that considering Watson couldn't beat out Hayward last season.