"The Players Are Just As Stupid"
January 28th, 2013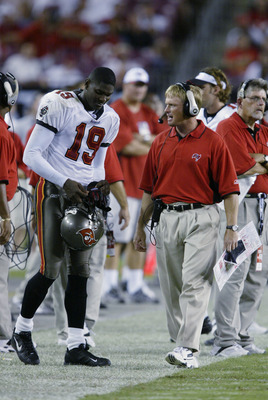 Leave it to Keyshawn Johnson to put a fresh spin on the recent Super Bowl "sabotage" accusation Tim Brown leveled at his former Raiders head coach, Bill Callahan, claiming Callahan changed his gameplan at the last minute in an effort to spurn the Raiders organization and hand the 2003 Super Bowl to old friend Jon Gruden and the Bucs.
Speaking on ESPN Radio to Mike Tirico this weekend, Johnson said it's ex-Raiders who own a lot of the responsibility for their poor showing because they never insisted on changing their calls to surprise the Bucs' defense.
"The players are just as stupid as the head coach," Johnson said.
College football-ignorant, popcorn-munching, coffee-slurping, fried-chicken-eating, oatmeal-loving, circle-jerking, beer-chugging Peter King, of Sports Illustrated and NBC Sports, surprisingly came out today in his popular Monday column and claimed there's no way those champion Bucs knew what plays the Raiders called, even though that take is completely contrary to Bucs history, as told by Derrick Brooks, John Lynch and others.
Mike Florio, curator and guru of ProFootballTalk.com, politely discredited King earlier today on that point.
The game broadcast, however, contained strong evidence to the contrary.

Tampa Bay safety John Lynch wore a microphone, and he plainly can be heard telling former Bucs defensive backs coach Mike Tomlin after the Raiders fell behind 20-3 late in the first half, "Mike, every play they've run, we ran in practice.  It's unreal."

Said Tomlin, "I know."

Whatever the reason, the Buccaneers' dominance was enough, we're told, to prompt Raiders receiver Jerry Rice to rip the microphone he was wearing during the game from his pads and flush it down a toilet at halftime.
Florio speculates that the Callahan controversy will heat up again if media types (perhaps Joe?) ask Niners head coach Jim Harbaugh about it tomorrow at Super Bowl media day. Harbaugh was on that Raiders staff.
Joe remains surprised, especially given all the BS still floating around about this topic, that Roger Goodell hasn't launched a formal investigation. How the hell can the integrity of a Super Bowl be seriously questioned — by Jerry Rice and Tim Brown of all people — and the commissioner sits quietly in the shadows?
Johnson went on to jokingly say he was surprised Chucky hadn't weighed publicly in on this topic. As a result, Johnson said he was going to ask Chucky at the Super Bowl, "How much did you pay the guy?" referring to Chucky possibly being in on the Callahan sabotage.