Joe Goes To New Orleans
January 29th, 2013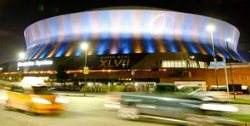 Yes, Joe is in the Big Easy, for his annual trek to cover Super Bowl Media Day, which is today — a long day. Joe will send a photo or two when Media Day is about to start and hopefully post interviews as the day progresses, in addition to his steady feed of everything Bucs.
Joe will have a full photo gallery later in the week.
A few tidbits from Joe's first day in New Orleans:
*People can be douchebags. The moment Joe walked to baggage claim, he noticed former NFL great and current FOX and SiriusXM personality Eddie George walking toward Joe, as the former Titans great running back had just retrieved his bag(s). Joe was about to pull out his phone and ask George for an interview when some joker, who appeared about 35, almost tackled George asking for an autograph. The stranger apparently wanted George to sign what appeared to Joe to be an NFL pylon. It was shaped like an end zone pylon and was fluorescent orange.
Why anyone would carry a pylon into an airport, Joe isn't quite sure.
George, smiling and doing his best to be polite, told the gentleman (cough, cough) that he had to catch a ride and couldn't sign. This did not deter said autograph seeker. The guy just hounded George relentlessly and would not take "no," for an answer. Said guy even rubbed up against George and kept saying, "C'mon man, c'mon," and kept coming up with various reasons why George should sign the pylon.
All the while George, with iPod earbuds on, wearing a big smile, kept saying he had to catch a ride. The autograph seeker followed George from baggage claim all the way to George's hotel shuttle, just hounding him for an autograph, in his face!
Joe didn't think of it at the time but Joe wondered if this was done on purpose, hoping George would snap, punch the autograph seeker so said person could sue George? Or, maybe it was an ambush set up by TMZ?
Either way, if any of us had a child that acted like that, the youngster would have been spanked. This was an adult!
No wonder athletes hate signing autographs!
*Outside of Vic the Brick, who works Los Angeles radio, Joe did not see another celebrity Monday, though he thought he may have seen a few football players (49ers/Ravens) out on Bourbon Street.
Funny thing is, about 100 feet from the Ravens hotel, sits Harrahs Casino. You don't think the Ravens have that place crawling with security?
*Coming from the airport, Joes shuttle was cut off by the Ravens' team buses. They had a massive police escort replete with dozens of motorcycles and several squad cars. Joe thought at first it may have been President Obama.
*Of course, Joe made his pilgrimage to The Gumbo Shop. The chicken andouille gumbo was spectacular, the red beans and rice were rich if not thick and the bread pudding with whiskey left Joe speechless.
My God, does this town know how to cook!
*Joe later walked up and down Bourbon Street and honestly, forgot just how much fun this town is. Really, it was made for hosting a Super Bowl!
It is so cool to walk down Bourbon Street and hear the street filled with live music from the many bars and haunts. Just pick some music you like and walk in, no cover! Doesn't matter if it is jazz, blues or hard rock. What a wonderful city!
Bourbon Street has way too many temptations and lures that can wreak havoc on a partier and Joe has been a willing victim (?) before. Not last night. Joe had to get up at 5 a.m. to begin covering Media Day.