Replacing Josh Freeman?
January 7th, 2013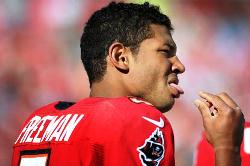 Yesterday, Joe's post about Josh Freeman, and what Rick Stroud of the Tampa Bay Times suggested as a less than stable future for the Bucs signal caller, blew up with 200+ comments so Joe decided to take the rest of the day off and watch football.
Well, Tampa Tribune Bucs beat writer Woody Cummings took the Freeman saga a step further in his Sunday column.
Cummings described the comments from Bucs coach Greg Schiano wanting "competition" for Freeman as nothing more than "rhetoric" and went so far as to suggest the Bucs are so unclear about Freeman's future, the team may be looking at options to replace him after the 2013 season, the last on his current contract.
That's what this offseason's search for a quarterback to compete with Freeman is all about. It's about getting ahead of the curve. It's about preparing for the possibility of a future without Freeman.

Fast forward to late 2013 or 2014. Imagine a Bucs team with Freeman playing at the same level as this year, which is good enough to dream about making the playoffs but not quite good enough to get there.

The Bucs have imagined that scenario. Freeman has left them no other choice. He forced the issue when he suddenly went off the rails down the stretch and cost them two critical games.
Whoa! This is an eye-opener to Joe. To be honest, it would be prudent. There is no guarantee Freeman will be on the Bucs roster in 2014, and Schiano doesn't want to be caught with his pants down having to rely on Dan Orlovsky (!) of all people to lead the team.
Joe has gone on record as stating the Bucs should try to re-sign Freeman now to a very team-friendly, incentive-laden contract, as Freeman has little leverage currently. Apparently, this is not in the Bucs plans.
Cummings' information pretty much reinforces what Joe has been preaching for the past week: That getting "competition" for Freeman doesn't add up in that it means even less snaps for Freeman and when you are trying to develop a quarterback, that's actually a backwards method. The quarterback you want to develop needs more snaps, not less.
Cummings also throws out two names that Bucs fans may want to monitor as potential draft picks: Landry Jones of Oklahoma and/or E.J. Manuel of Florida State. A pick like that, Cummings explains, is no different than what the 49ers did in drafting Colin Kaepernick. If starter Alex Smith improved, he would be entrenched as the Niners quarterback. If he slipped, the Niners had a Plan B.