The Future Of Josh Freeman
January 6th, 2013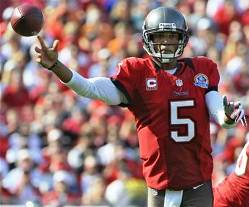 Joe knows there are many Bucs fans who would cherish the day that Josh Freeman is no longer with the Bucs.
Many Bucs fans are tired of seeing Freeman's inconsistent ways and they also see quarterbacks with less experience if not lesser talent lead their teams to a playoff berth, something Freeman has yet to accomplish as he enters his fifth season as the Bucs' starting signal caller.
Joe is under the impression that, barring something totally unforseen, Freeman will have his contract extended with the Bucs at some point before it runs out after the 2013 season. If Freeman struggles again, well, then the Bucs get a team-friendly contract from Freeman.
But not all believe this to be the case. Enter Rick Stroud of the Tampa Bay Times,who is of the mind there is a very real possibility that Freeman, if he struggles again in 2013, could play for a new team in 2014.
Coach Greg Schiano inherited Freeman, so he has no loyalty to the enigmatic quarterback. He likes a lot of things about Freeman's game — he did set franchise records for passing yards and touchdowns — but plans to add a quarterback, either in the draft or free agency, to compete with Freeman next season.

But let's say Freeman doesn't lead the Bucs to the playoffs in 2013, his fifth season. He's gone. Schiano might start over with a new signal caller that might not win fast enough to save his job.
Stroud goes on to note that if the Bucs decided to franchise Freeman after the 2013 season — provided he has a good season — it could cost the team as much as $17 million a year or more to keep the Kansas State product via thefranchise tag.
This is something Joe has written about a few times before, even before Freeman was drafted. A new coach, Schiano, isn't going to Pearl Harbor his own gig if Freeman struggles. Schiano didn't draft Freeman; he is not tied to Freeman in any way.
Also, as Joe has noted before, Schiano was wont to start freshmen quarterbacks at Rutgers. That tells Joe Schiano expects a high level of production from his quarterbacks and if he does not get said production, is quick to pull the trigger on another quarterback.
Simply put, if Schiano doesn't believe Freeman can lead the Bucs to the playoffs after the 2013 season, Joe wouldn't be surprised if Schiano waves goodbye to him.
In short, the ball appears to be in Freeman's court. His future with the Bucs is in his hands. Get to the playoffs in 2013 and Freeman not only hits the lottery, but he will be your Bucs quarterback for perhaps the next decade.