Mike Sullivan And The Bears
January 7th, 2013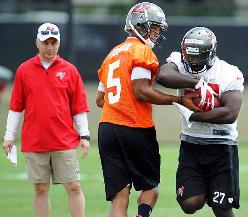 Many Bucs fans, including several front office types if not Bucs coaches at One Buc Palace, are holding their breaths hoping that Bucs offensive coordinator Mike Sullivan is not tagged to be the next head coach of the Chicago Bears.
It's not that the crowd at One Buc Palace wouldn't like to see Sullivan advance and succeed. It's the collateral damage that would happen if Sullivan leaves for greener pastures with the Monsters of the Midway.
If Sullivan goes to the Second City to succeed Lovie Smith, that would mean embattled Bucs quarterback Josh Freeman will have his fourth offensive coordinator in five years. This is partially why Alex Smith and Jason Campbell crumbled as NFL quarterbacks: Both had a revolving door of offensive coordinators in their formative years as professionals.
So Joe reached out to a long-time acquaintance, Chicago Tribune columnist and Bears insider Dan Pompei, to get feedback on Sullivan's candidacy with the Bears. Joe first met Pompei some 20 years ago when Pompei, then was the Bears beat writer for the Chicago Sun-Times. Pompei was kind enough to provide Joe will some insight of Sullivan and the Bears.
JoeBucsFan: It is known that Bucs offensive coordinator Mike Sullivan had a lengthy interview last week with the Bears. Hearing from your contacts, how serious of a candidate is he? What is it about him that the Bears like?

Dan Pompei: It's difficult to say at this point where Sullivan ranks in the Bears' pecking order, other than to say he is one of many, many candidates. On the surface, his resume might not be as impressive as some of the other candidates, but Phil Emery isn't necessarily looking for eye popping statistics or years of experience as a coordinator. He is looking for leadership and head coach qualities. And it wouldn't surprise me if he found them in Sullivan, given his background and the men he has worked for and with.

Joe: Just based on resumes, it seems Indianapolis offensive coordinator Bruce Arians would be a strong candidate, a better candidate than Sullivan. What do you know about Arians and the Bears?

Pompei: Arian's depth of experience is a selling point, as is his track record with quarterbacks. He is a bit of an outlier because he is 60 years old. That could end up hurting his chances, but Emery isn't concerned with age as much as he is concerned about energy and ability to do the job at a high level.
Partially an element of both hope and wishful thinking, Joe must believe the Bears would go after Arians first, before offering a gig to Sullivan. This is not a knock on Sullivan in any way, but Arians has a long, proven track record of excellent work with quarterbacks.
While Sullivan did a fine job molding Eli Manning as a quarterbacks coach with the Giants, his first year as an NFL offensive coordinator working with Josh Freeman is, one could describe as, incomplete.