Should A GM Be Evaluated By Wins And Losses?
January 7th, 2013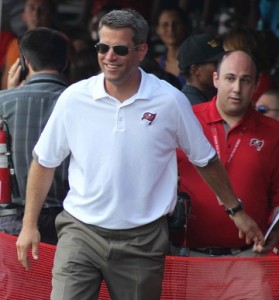 Bucs rockstar general manager Mark Dominik has had incredible successes and notable failures, like most GM's around the NFL.
And, of course, Dominik doesn't coach. As Joe's written previously, Joe gave Dominik 15 percent of the blame for the horrendous 2011 season, not 50 percent or more like many fans and pundits. Plus, it was pretty obvious that the 2009 hiring of Raheem Morris was a Team Glazer call, not Dominik's.
But today, Joe's wondering how much a GM should be judged by his teams' won-loss record.
Wacky Scott Pioli took over the Chiefs in 2009, same year Dominik grabbed the reigns in Tampa, and was fired last week. Acclaimed veteran Chiefs beat writer Bob Gretz, Kansas City's lone voter in the Pro Football Hall of Fame, said Pioli's 23 wins in four seasons meant he deserved to be canned.
It's not that I'm a numbers guy. In fact, if you have read this website over the years you already know I struggle with anything greater than basic math. Despite his many character flaws, rampaging insecurity, devious nature and seemingly bi-polar behavior, Pioli was fired because the numbers did not add up.

Specifically 23-42 – that's the Chiefs record with Pioli in charge:

2009: 4-12.
2010: 10-7 (includes loss in playoffs to Baltimore).
2011: 7-9.
2012: 2-14.

Total: 23-42, a .354 winning percentage. That's bad football. That gets people fired.
Dominik has just one more win than Pioli and one less playoff appearance. So does that mean Dominik is on thin ice or should be?
Ultimately, every GM must be measured by wins and losses, but it's a far more complex threshold than that of a head coach. The record must be scrutinized to determine the GM's role in the outcome. And then there's the whole unknown factor of potential restraints placed on a GM by ownership.
One could argue that Dominik cost the Bucs the playoffs by making a series of wrong decisions that left the cornerbacks cupboard bare this season. But one could also argue that Dominik's homerun 2012 draft and aggression with Vincent Jackson in free agency left the Bucs awfully close to becoming a playoff team — all while having a mountain of cash for the 2013 offseason, and emerging young NFL stars on the roster.
It's a great debate. And hopefully it's one that won't continue among Bucs fans, because if the Bucs win, nobody will care.