Fans' Frustration With Josh Freeman
January 4th, 2013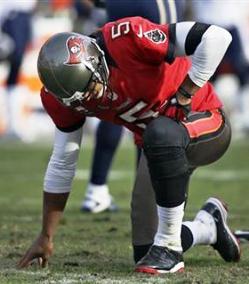 One positive to Josh Freeman and the Bucs winning the final game of the season, though it could cost them the chance to draft the Baron of Berlin, Florida State stud defensive end Bjoern Werner, is that for a brief moment it has softened the cries for Freeman's head.
Freeman frustrates Bucs fans and a loss would have done nothing but fuel the flames of anti-Freeman chatter on sports radio through the entire offseason.
Freeman will enter his fifth season as a Bucs starter in 2013, and there are a number of Bucs fans tired of his inconsistency and patches of frightening inaccuracy, despite the fantasy football-like numbers he put up last year. He's 24-32 over his career as a starter and has been upstaged by a crop of up-and-coming quarterbacks, evidenced by the playoffs which begin tomorrow. Consider a handful of starting quarterbacks this weekend:
Cincinnati: Andy Dalton, second year in NFL.
Minnesota: Christian Ponder, second year in NFL.
Indianapolis: Andrew Luck, rookie.
San Francisco: Colin Kaepernick, second year in NFL.
Seattle: Russell Wilson, rookie.
Washington: Robert Griffin III, rookie.
So half the starting quarterbacks in the NFL playoffs are either second-year guys or rookies. Throw in the fact that Mark Sanchez, a guy who was drafted just ahead of Freeman, has already played in two AFC championship games, it is easy to see why Bucs fans are losing patience with Freeman when they see him one-hop passes to running backs in the flat, miss wide open receivers terribly in the end zone and occasionally force a pass into triple coverage.
Does this mean Freeman is or will be a bad quarterback? No. Just that Bucs fans see the aforementioned quarterbacks lead their teams to the postseason, and wonder why the former Bucs first round pick cannot play up to the same level as rookies or others with half the NFL time logged than Freeman has.
So Joe can understand why Bucs fans have lost trust in the Bucs signal-caller.