Ron Turner Leaving Bucs For FIU
January 3rd, 2013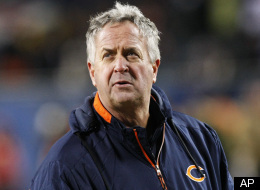 For weeks, it appeared Bucs consigliere Butch Davis was heading for Florida International University to fill the void left by the firing of Mario Cristobal. Instead, it was another member of the Bucs organization.
Per Joe's good friend Brett McMurphy of ESPN, FIU has actually hired Bucs QB coach Ron Turner, not Davis, so McMurphy Twittered.
@McMurphyESPN: Tampa Bay Bucs QB coach & former Illinois coach Ron Turner will be named FIU's coach, sources told @ESPN
For Joe this is not a big loss. Joe was never a fan on Turner, the brother of Norv Turner. Aside from the immortal Kurt Kittner, name a quarterback that Turner developed. Rex Grossman? Please.
Turner was bad with the Bears, mediocre at Illinois and upon his return to the Bears, even worse.
Losing P.J. Fleck was bad. The potential of losing Mike Sullivan is awful. Losing Turner, no biggie.
Joe wishes Turner success.