Let's Examine How Idiotic Tim Brown Is
January 23rd, 2013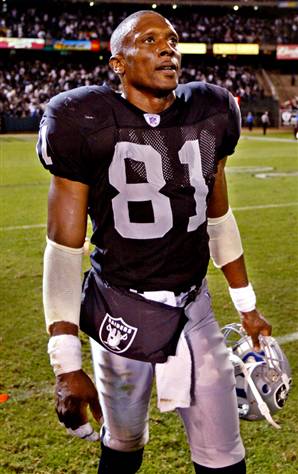 The fact that former Raiders receivers Tim Brown and Jerry Rice claim that former Raiders coach Bill Callahan threw the Super Bowl against the Bucs is over the top in Joe's eyes.
In a twisted way, Joe believes this is a case of sour grapes on steroids. Their egos are out of control, in that they had their collective arses whipped by the Bucs and they cannot deal with the reality. So they concoct one of the wildest stories in sports history.
If this is close to true, it's the worst sports scandal since the 1919 Chicago Black Sox throwing the World Series.
Let's think about this for a moment. Why in the world would Callahan think of doing something so preposterous? Brown claims Callahan hated coaching the Raiders and threw the game to help out his friend, Chucky.
So let's pick this apart, shall we?
Callahan hated the Raiders so much he coached there for multiple years? Callahan, by winning one Super Bowl, would have secured solid work the rest of his life (i.e. Brian Billick, i.e. Barry Switzer). And the notion Callahan would toss such financial security away with the potential of getting caught and face legal action is so crazy, the next thing Joe is expecting is that Brown suggests Callahan has imaginary Facebook groupies.
Would Callahan change the gameplan without the blessing of meddling Raiders owner Al Davis? If this happened, Callahan would have been fired before the Super Bowl.
These claims by Brown, backed up by Rice, border on idiocy if not hallucinogenic mushrooms.
As Joe stated earlier this morning in a previous article, Joe demands that NFL warden commissioner Roger Goodell launch an immediate investigation to either find out if there is any truth to what Brown claims, or to clear the name of Callahan, Chucky, the Buc,s as well as the NFL in general. These are serious, serious, potentially damaging allegations.
This also involves current coaches, including new Chicago Bears coach Marc Trestman, who was Callahan's offensive coordinator in the Super Bowl in question, and current Super Bowl and 49ers coach Jim Harbaugh, and Pro Football Hall of Famer Fred Biletnikoff, all who were on Callahan's offensive staff.
If no evidence if found to substantiate Brown's claims, Joe strongly believes Brown should immediately lose his eligibility to be elected to the Pro Football Hall of Fame. The brutal treatment Warren Sapp dished out to dozens of media members would in comparison to the potentially unjust damage Brown has done to The Shield.