A Relationship Soured?
January 9th, 2013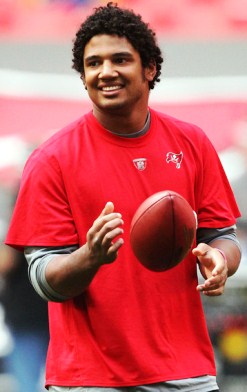 Until the draft starts heating up, aside from the need for a new secondary coach(es), a new QB coach, a new secondary (sans Mark Barron and/or Ronde Barber), and the looming questions concerning the Bucs' defensive line, there really is only one subject remotely moving the needle with the Bucs. That's the status of Bucs quarterback Josh Freeman.
It began when Bucs coach Greg Schiano stated flatly the Bucs need competition at quarterback. Some have suggested that is code for either letting Freeman's contract expire or even drafting a potential replacement for the fourth-year product from Kansas State.
To hear former Bucs defensive tackle Booger McFarland discuss the subject, McFarland likened the whispers seeping out of One Buc Palace about Freeman to a relationship between two lovers when one is looking for an upgrade
And in this relationship, McFarland said, it is the Bucs who have developed a wandering eye, so he said while co-hosting "The Booger and Rich Show" heard locally on WHFS-FM 98.7.
"If you are Josh Freeman and you are 24-years old and you are looking for a commitment just like any woman out there who has been in a relationship as long as Josh Freeman's relationship has been with the Buccaneers — four years? You know you want a ring on it. 'I have shown you commitment for four years and what do you do? Eh honey, I like you, but…'

"You see, that is what the Buccaneers have told Josh Freeman. 'You are our starting quarterback until we can replace you.'"
McFarland went on to confess he didn't know if this is a good thing or a bad thing for the Bucs, but he did say there is only one way for Freeman to repair the bond between himself and the Bucs. And that is for Freeman to lead the Bucs to the playoffs next season.
Joe believes that's a reasonable request.