The Offensive Diversity Conundrum
January 9th, 2013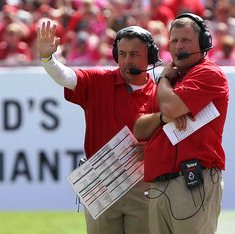 No, this is not about making sure all nationalities are represented equally on the Bucs' offensive side of the ball. Wrong forum if you had the wrong impression.
Joe has heard periodically a Bucs fan here or there kvetch about the Bucs' play-calling diversity and, frankly, Joe was confused. If anything, Joe thought the Bucs were unpredictable. Yet this same subject was lobbed at Woody Cummings of the Tampa Tribune in a recent TBO Bucs Q&A.
Q: I know the problems we have on defense but I'm focusing on the offense for now. We must diversify our pass plays as much as New England does using our tight ends, fullbacks, tailbacks and wide receivers. We are way too predictable in our play calling which is what many opposing players have said after facing us. We must keep the other team guessing. Go Bucs!

— Bill Elkins, St. Petersburg

A: Keeping 'em guessing is always a big part of football and I hear what you're saying. But based on the fact the Bucs produced more points and yards than any other team in franchise history tells me the Bucs did a pretty good job this year of keeping their defensive opponents off balance. Now, do they need to improve and become more consistent, absolutely. And yes, upgrades at TE and a little more use of the fullback can help take care of that.

— Woody Cummings
Aside from early in the season when tight end Dallas Clark was virtually a non-factor, Joe is as confused by the charge the Bucs aren't diverse offensively as he is at this faux controversy that Brent Musberger thought Miss Alabama is hot. What, Musberger was supposed to say that Alabama quarterback A.J. McCarron was sleeping with a Rosie O'Donnell clone?
As Cummings points out, the Bucs scored the most points in franchise history. Bucs quarterback Josh Freeman had and used plenty of weapons. Fullback Erik Lorig was involved in many games.
How much more diverse can the Bucs offense get?