Schiano Already Quitting On Freeman
December 24th, 2012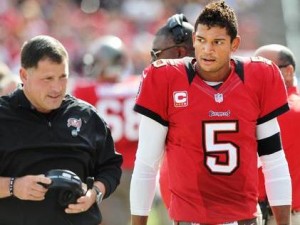 Greg Schiano quit on the first half with three timeouts in his pocket and 24 seconds left, trailing 14-6 with a 2nd-and-3 on the Bucs' 27 yard line yesterday.
The leader of the New Schiano Order, who claimed last week that his team needs to learn how to win, threw in the towel on a chance to drive for a score. Yes, this is the same head coach who blows up offensive linemen on a kneel-down play because his team's allegedly will always fight to the finish. Yes, this is the same head coach who repeatedly claims he's got an outstanding field goal kicker.
So what did your team learn from quitting on the first half, Coach Schiano?
Joe learned that the head coach has no confidence in his quarterback to make a couple of plays with timeouts to burn. Every other team in the NFC South in that situation takes another shot or two. But Schiano looked at his franchise quarterback and his win-now, high-paid offense and decided to run for the locker room serenaded by a chorus of boos.
Joe could do without that kind of "culture change."
How fitting it was that the Rams scored a back-breaking touchdown on the next play from scrimmage.