Worrying About Josh Freeman
December 24th, 2012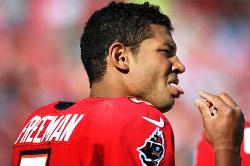 Joe has a difficult time believing just weeks ago, the Bucs were riding high with six wins in 10 games, on the cusp of a playoff push.
The last five weeks, the Bucs sunk deeper and deeper in the pool to the point they are circling the drain. This happens when your quarterback of the future seems to be auditioning to become the quarterback of past.
This is not lost on Tampa Tribune humorist Martin Fennelly, who sees a dire team that wandered off the field at the Stadium on Dale Mabry Highway after losing to the Rams yesterday.
See any growth lately?

I don't.

Despite nearing the end of his fourth season, quarterback Josh Freeman is dissolving before our very eyes. He had an incredibly deceiving 372 yards passing yards on Sunday. He also threw four more interceptions, for eight in two weeks, or as many as he had in his first 13 games this season.

His head is full of mush. Maybe the Bucs should lock him up with a contract while the price is right. How does five years, $100,000 a year sound? Suddenly, No. 5 is a project again, the priority worry.
What is a rock star general manager Mark Dominik supposed to do? Here he and the team's brass thought they had their quarterback for the next decade.
Do they? Surely doubt has crept into the minds of the movers and shakers at One Buc Palace.
Joe knows it is Christmastime but Freeman played like he was Santa Claus at All Children's Hospital with all the gifts he gave to the Rams (same amount he gave to the Saints the previous week).
For a no-tolerance-for-turnovers kinda guy like Bucs coach Greg Schiano, these must be trying times.