Rookie Third-Round Pick Outplays Franchise QB
December 9th, 2012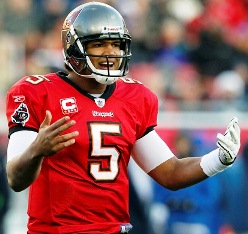 One reason the Bucs are fond of saying it is all about No. 5, and wanting to get all the toys for No. 5, is to find out if Josh Freeman will be the long-term solution for the Bucs the rest of the decade.
After nearly three full years as a starter, right now Joe dosn't know if Freeman is "the guy."
At times, Freeman is spectacular, as he has shown in many games this year, and a few times during the 2010 season.
Then there was last season … and too many times this season, even when surrounded by Pro Bowl skill players.
Today was a shock to the system that demonstrates Freeman has quite a ways to go before his name can be spoken among the game's elite, much less being able to lead a team to the playoffs.
Last week, Freeman got rattled by Von Miller and vanished for a good quarter of play, maybe longer, which allowed the Broncos to rally and win. Today, Freeman couldn't hit the proverbial Tampa Bay if he fell out of a boat, one-hopping passes and generally missing targets by a disturbing margin.
On top of that, Freeman wasn't making the smartest of decisions either. Why Freeman chose to check down to D.J. Ware who was covered like a blanket for a seven-yard loss of a reception (to be fair, Ware should have dropped the pass) rather than just throwing the ball away is a mystery.
Simply put, this shouldn't be happening to such a talented quarterback with so many starts under his belt.
For a moment, Joe thought Josh Johnson was the Bucs quarterback, not Josh Freeman.
Then there is Nick Foles, the Eagles rookie quarterback making his fifth career start, a third-round pick from the noted quarterback factory of the University of Arizona. Foles, under pressure, delivered passes today, on the money, exactly the opposite of Freeman under pressure. In Joe's eyes, Freeman crumbles under pressure far, far too often.
And when the Bucs offense only needed two first downs to seal the game, Freeman couldn't get the offense to do even that. Then the ball was turned over after a punt to the Eagles and Joe is convinced, with the Bucs' embattled secondary, every person at the Stadium on Dale Mabry Highway knew what was coming.
To be blunt, Joe doesn't know what the Bucs have at quarterback other than a talented, gifted, inconsistent signal-caller that doesn't seem to have the ability to overcome adversity consistently.
Is Freeman the long-term answer? Joe can't answer that. Can Freeman lead the Bucs to the playoffs? He hasn't been able to yet, even with a closet full of toys.
With games like this from Freeman, Bucs rock star general manager Mark Dominik has more and more bargaining power when/if it's time to extend Freeman's contract after it expires following the 2013 season.
Barring some miracle, Bucs fans will now endure 10 years and counting without a playoff victory.