"Breakdown Rules" Limit Freeman
December 22nd, 2012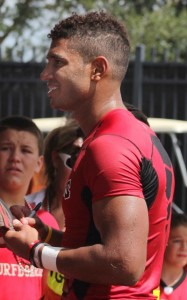 Why doesn't Josh Freeman run more?
Why isn't he extending plays with his feet and freelancing and scrambling like he did during his stud 2010 season?
Mike Williams says the new Mike Sullivan playbook doesn't leave much room for that. 
"I think in this offense it's hard to like get a breakdown and scramble because you've got your breakdown rules with this offense, too," Williams said on the Buccaneers Radio Network. "He gotta hit the checkdown right away and things like that. So in this offense I think it's harder for to scramble as in other offenses where it was easy for him, if it broke down, he could get out of there and run like he'd been doing."
"Breakdown rules," like the ones Williams referenced, also keep quarterbacks from getting clobbered repeatedly like Jay Cutler and others that play in a more liberal system.
Joe only likes to see Freeman run a little more because it seems, based on Freeman's body language, to give him confidence, in addition to the fact that Freeman is a good runner.