Time To Applaud Bob Bostad
November 5th, 2012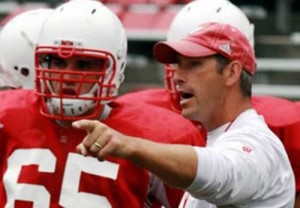 Joe can just guess when readers noticed the headline, a few asked themselves, possibly out loud, "Who?"
Bob Bostad would be your Bucs offensive line coach and it's time to start giving him props. Let's look at what the Bucs offensive line has gone through since August.
1) Right guard David Joseph goes down with a knee injury ending his season.

2) Right tackle Jeremy Trueblood gets hurt and is Wally Pipped, losing his starting gig to Demar Dotson.

3) Ted Larsen, who started at right guard after Joseph went down, is benched and replaced by Jamon Meredith.

4) Left guard Carl Nicks does down for the season with an ugly toe injury, and is replaced by Jeremy Zuttah, who moves from starting center to left guard.

5) With a center position open, Larsen, who played some center at North Carolina State, moves in to fill the void left by Zuttah at center.
This is just nuts and normally, just Joseph's injury could collapse an offensive line. The other elements would normally cripple any other line.
But somehow, some way, Bostad has found a way to get the Bucs to play effectively up front, enough to have Doug Martin go all Gayle Sayers on the Raiders yesterday, a defensive front with some damn tough hombres.
Now college football geeks like Joe know that traditionally, Wisconsin year in and year out had one of the nation's top offensive lines, and produced studs like Browns left tackle Joe Thomas and Bears right tackle Gabe Carimi.
It's no coincidence that Wisconsin, to be polite, has struggled with their offensive line in the first year after Bostad left, and already fired Bostad's immediate successor.
Right now if someone can inform Joe of an NFL offensive line coach who is doing a better job than Bostad under the worst of possible conditions, Joe is all ears.