Quotes From Bucs Win Over Chargers
November 12th, 2012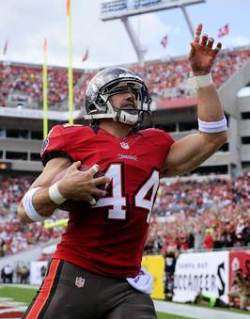 Here are quotes from some of today's key figures in the Bucs win over the Chargers. Quotes are courtesy of the media relations departments of the Bucs and Chargers.
TAMPA BAY BUCCANEERS
GREG SCHIANO
(On LB Quincy Black)
"I think Quincy is going to be okay. He's at the hospital for observation. I was really impressed with the medical people, how they handled the whole situation. It's obviously something that we have to deal with but I think he's going to be okay."
(On the game)
"Our guys today played team football. That's what we needed to do. It's like a pitcher when he goes out there, maybe he doesn't have his fastball that day, but he works the whole game with different pitches and battles through it. That's what our team did, held each other up. It was critical that we could do that against a good football team. Philip Rivers was hot as a firecracker the last two games and we did just enough to find a way to win, which is a good feeling."
(On CB Leonard Johnson)
"Leonard has stepped up in the last three games. He's got an interception in each of the three games he's played. The ability to pick it off and score; I don't know how long the run was, but that was a pretty long run and, obviously as you look at the game, it was a critical play in the football game. Leonard is working his tail off to become a good quality corner in this league. The three (games) under his belt; he's doing a good job."
(On WR Tiquan Underwood)
"Tiquan (Underwood) has battled his way into the lineup and is doing a heck of a job. He's working his tail off, too. I think Tiquan, in his journey in the National Football League, has gone through a lot and I think he's learned a lot. He's a good guy to have on this team."
(On the offensive line)
"I think Bob Bostad and Steve Loney, the two offensive line coaches, have done a great job of just, 'Hey we lost some good guys and the next guy has to step in there and we're going to work it hard.' We're a work in progress without a doubt on the offensive line but the last couple of weeks they've really battled. I think the leadership of Donald Penn and Jeremy Zuttah has been really, really big."
(On upcoming divisional game)
"I understand divisional games and how important they are, but, at the end, there are 16 games and they all count. These were huge (the past three wins). I think, as we go, we go one game at a time, so we're going to enjoy this for a few hours and then we're on to Carolina. That's the only thing that will be on our mind. I know one thing, if you can take care of one game at a time you look up at the end and maybe you have something cooking."
(On the secondary)
"There's certain things we haven't done as well as we would like, but we've made plays. Leonard (Johnson) with the interception for a touchdown and then at the end of the game making a play to put it on ice. Sure, we'd like to be doing things better and we will. Like I told you during the week, it's not from a lack of effort; it's not from a lack of want to. We just have to get everything clicking together – the pass rush, the coverage, the scheme, the coaching, all of it. We're working at it, we'll get it."
(On the blocked punt)
"It's an ongoing thing, but really I'm excited because we had an opportunity to block one today and then to score with it, and Adam (Hayward) did that. It was great to scoop-and-score there. We believe in that as part of our deal. It's not exclusive, but we believe in that. When you can do it right it can be a real big play in the football game."
(On the complete football game)
"I mentioned (earlier) that maybe we didn't have our fastball today in every area, but what we did was we played off each other in all three phases. Guys made plays when we needed to make them. You usually don't win a game when the time of possession is the way it was – 36 and change and 23 and change. It's hard to win that way, but again some of those plays that made it that way were a blocked punt for a touchdown and an interception for a touchdown. Certainly the defense was out there for a long time today, but they bowed their neck and made a play when they needed to."
(On the difference between the first few weeks and now)
"I don't think we're playing that differently. I think what's happened is we've worked through, we've built cumulative receptions in what we do, we're more comfortable with it and its given us a chance to make (plays) because the line is so fine between doing it and not doing it. Right now we're tending to be on the other side of the line, which is good. We have good players and the coaches are working hard. You get now into game 10 coming up, and we just have to make sure that we keep our health, keep feeling good, mentally get it, and go out and be ready to play on Sunday. That's going to be the challenge moving forward."
QB JOSH FREEMAN
(On production from free agents)
"It is for sure. Tiquan (Underwood) scoring, Dallas (Clark) scoring, Leonard (Johnson)… Leonard's the man dude. Then (Adam) Hayward. I thought it was just a great overall team effort. When I say great, guys just came out four quarters and played. We knew it was going to be a dogfight against a very good San Diego team. We knew we were going to have to come out and play the very best we could for four quarters."
(On San Diego)
"To be honest, they played a lot more middle field open then we had expected. They've shown before primarily playing middle field closed. Keeping that extra guy in the box and played a lot of cover three zone. They opened it up quite a bit. I think they were trying to play in a way that they would play quarter halves, and keep that run support from that safety and try to play middle field open to eliminate some of the shots. We just kept grinding away and the defensive score and the special teams score kind of threw them out of a rhythm from the point of trying to sit back. They kind of pushed the envelope a bit, allowed us to get on top and one of those kind of sealed the deal."
(On answering San Diego's big scores)
"You're playing an offense like the San Diego Chargers and the way they do so well, just getting the yards moving the ball down the field, eating up clock, it is crucial that you answer. The first one we answer that but then later on in the game when they had the lead. When they are eating up all of this time, the guys on defense were out there for so many plays, so much time, they need a rest. Our ability as an offense to spread it around and sustain some drives of our own. That allowed, not just for our offense, not just the points, but allowed the defense to get their legs, those guys went out and played hard. They played a very long game."
(On RB Doug Martin)
"Doug has great hands. He's small, (so) it's kind of hard to throw it to him, other than that, he does an awesome job. No, I think ,Doug, he's all around. Some guys are great at running the ball, some have great hands. Other guys are really good at catching the ball, but not really good at running, sticking their head in the hole and getting those dirty yards, but Doug does the all-around thing. The third thing is pass protection. I feel like Coach EB (Earnest Byner) does a great job for getting the running backs in positions to catch the ball, running the ball, reading their blocks, then also picking up the pressures, blocking linebackers running full speed through the hole.
(On avoiding interceptions)
"Yeah that's kind of throughout the entire league. Turnovers are kind of the number one factor for wins and losses. You look at every win, every loss. The team that wins the turnover battle is pretty substantial. I want to say 80 percent, but more often than not you are going to win the game if you win the turnover battle."
(On WR Vincent Jackson)
"It's a win anytime we win for Vincent. That is what we are in it to do. Yeah, he was excited, that was the team that he played with then he just got here. Getting him involved, letting him make the plays that he did and come away with a win. Vincent, as you said, is a humble guy, he's a team guy. No matter how big the game is inside his mind, it's not going to affect him, it's all about team. I'm really happy that we were able to get this win. For the team's sake, then also for Vincent's sake."
(On the team's 5-4)
"(We have) a lot of work to do. But anytime you win you have to be happy. Moving forward we just have to take it one game at a time. Some of the things we have been doing, can't really look behind."
WR TIQUAN UNDERWOOD
(On today's game)
"We're just playing complementary football. We played great game on offense, defense, and special teams as a collective unit; that's how we got the win today."
(On Tampa Bay's third-quarter scoring drive)
"Whenever you come out of halftime, make your adjustments, and put a good drive together and put points on the board, that's just a good feeling to get the second half going."
(On his touchdown reception)
"The offensive line did a great job giving Josh (Freeman) time and he found me. Like (Freeman) said, (Vincent Jackson) was the first read. We ran good routes and Josh made a good throw."
LB MASON FOSTER
(On the defense's performance during the second half)
"(We) just tightened up, made some adjustments at halftime, locked in again. You know, it's not how you start, it's how you finish. We came out made some plays and its' a big win at home."
(On the backups stepping in and playing well)
"Everybody on our team works hard, everybody. Everybody in the organization works hard and does their job. It's like the next man up. You get your chance to play, your opportunity; you're going to make the most of it. I feel like everybody on our team is doing that right now."
(On the injury to Tampa Bay LB Quincy Black)
"It's bigger than football. He's one of my good friends and a guy I look up to and helped me as a rookie and still helps me out today. So you see him hurt, it's definitely a blow, but you got to keep playing and next man up. Adam Hayward is a big-time football player for us. You may not see him on base, but he knows every position and is helping us out. So I know he is ready to step in and make some plays, which he did. I haven't heard anything (about Black), but I know he's going to be all right."
LB DEKODA WATSON
(On the blocked punt)
"We've been working on that, and it finally came through. Shout out to Ahmad Black, the whole punt team and coaches. We all came together and made it happen. (It was) my first one in the pros, a long time coming. I love special teams and working with (LB Adam Hayward). There's nothing better."
(On the team)
"We just have to continue to believe, and that's what we've been doing. We've definitely been buying in, and you're starting to see it on the field."
(On LB Quincy Black's injury)
"It was definitely hard, he is one of our leaders. He is number one in command in the linebacker locker room. We are just going to wish him the best, and I know he will be strong enough. Knowing him, he'll want to be back this week, but we'll see how he feels."
DT GERALD McCOY
(On not allowing a touchdown in the second half)
"We just came out and played our brand of football, we didn't do that in the first half. It's what the Bucs do: we come out and play a physical brand of football and make the plays we need to and have to."
(On winning as a team)
"This is a team mentality. It's not always just our offense or just the defense. We're a team, we're the Buccaneers. We had to win as a unit today."
(On having a winning record)
"We're not worried about the record. We're taking it one season at a time. Our goal today was to be 1-0 in the San Diego season, so I'm happy."
WR VINCENT JACKSON
(On seeing the Chargers on the other side)
"It seems like I've been here so much longer then I have. I feel so at home here, I feel so comfortable in the red now, so it didn't feel that uncomfortable. Seeing those guys on the other side of course brought back some memories, seeing (Antonio) Gates and (Philip) Rivers. Great relationships over there with those guys, I wish them the best all of the time, but when we get out there between the chalk and its time to play, obviously we have to do our job."
(On a team effort)
"I think we only had 15-18 plays in the first half, and still not that many in the second half. For our offense to be under 50 plays, we obviously have to be efficient. We did a good job of that, we managed the ball, drove the ball down, got a field goal, and got touchdowns when we needed to. Every game is not going to be explosive when you have another offense that is very capable. We just have to manage the game and take care of the ball when we have it."
(On winning close games)
"Confidence and sticking to our training, that's what its about. There are very rarely games in this league each and every Sunday that you see that the game is over in the first half or third quarter. You have to play a complete game, all four quarters. We harp on that each and every week in practice and that's what we talk about, finishing. Finishing drives, finishing games, and we did a good job of that in the last few weeks."
CB LEONARD JOHNSON
(On interception and touchdown)
"We ran Cover 2. I rerouted the receiver took him to my side, drop back in my zone and ended up jumping on the route. The ball came right to me. I was just so excited; I grabbed (the ball) and just went to running."
(On what's was going through his mind as he was running down the field)
"I was shocked that I caught the ball first of all, with my hands instead of my body. Once I grabbed it, I just went to running, praying that nobody caught me."
(On the Tampa Bay defense)
"When you got guys around you that consistently tell you next play, next play, it's kind of easy, you know, to just put the play behind you, knowing that it's a long game to play. All the guys in the secondary came back to me, kept me uplifted. Just moved onto the next play and continued to play the game. "
(On redeeming himself with the after giving up a big play early in the game)
"I honestly forgot all about the big play that I gave up early in the game. I was just excited getting a touchdown; that was my first touchdown since high school. "
(On receiving the game ball for his touchdown interception)
"I'm keeping that. I'm keeping everything I can get my hands on."
LB LAVONTE DAVID
(On how it is making the transition from college to the pros)
"I just love the game of football. I just try to do what I can man. Thanking God for putting me in this place right here, because you know without him none of this could be possible so every day I just go out there and just follow through with what I got to do and my teammates, I can't thank those guys enough, they motivate me and keep me humble, so that's why I go out there and do what I do."
(On how to keep the winning streak consistent)
"I think we been doing an okay job of keeping each other up. Everybody stay sane, everybody just stay humble, and just keep doing what you're doing, but obviously you know we can get better, just have to go back in the film room and correct some things and just take off from there. Go full throttle, play hard no matter what. No matter what the play is, long as we go full speed good things happen."
SAN DIEGO CHARGERS
NORV TURNER
(On the QB Philip Rivers interception was returned for a touchdown)
"He was trying to get it over the corner. Eddie (Royal) was in behind him. It was a throw you can't make. He obviously should have thrown the ball away, should have thrown it out of bounds. (Then) we are in position to kick a field goal to tie the game."
(On trying to overcome Tampa Bay's splash plays)
"If you give up a blocked punt for a touchdown, and you give up an interception return for a touchdown, you are going to put yourself in jeopardy in terms of winning the game. I thought our guys, in terms of when we had adversity, they fought back. It was an awfully competitive game. We have a group of guys that are mentally and physically tough. Physically, we matched up and competed against a real good, young, talented team. I thought we accomplished a number of things we set out to accomplish. Obviously the thing we wanted to accomplish was to win the game and we weren't able to do that."
(On the mood in the locker room)
"This is as tough a group of guys as I've been around. We've got guys that have responded in every kind of adversity. We've had guys that have gone out there and played hurt, played when they shouldn't have played, all those types of things. I know this group. It's going to respond. We go to Denver, they'll respond and our coaches will respond and put together the kind of plan we had today and we'll go up there and fight our asses off."
(On if losing is acceptable if the team still plays hard)
"What do you think? What do you think the answer to that question is? Answer it for me. Is it acceptable? No, it's not acceptable. You know the answer to that. Is it acceptable having a blocked punt and an interception for a touchdown? No. That's not what we're trying to accomplish out there. We're trying to win games and those things are keeping us from winning. No, it's not acceptable to play hard and not win, but that's what happened."
(On P Mike Scifres playing through injury)
"It was tough. As I've said, I'll start with Mike and I'll go through the entire roster. They're as tough as guys as you're going to be around, mentally and physically. Could he have stayed on the bench and said, 'I can't punt?' He could have, we could have done something else. That's not the type of guy he is. That's not the type of guys we have."
QUARTERBACK PHILIP RIVERS
(On his fourth-quarter interception)
"Obviously there is a story to every interception, but the intention was to throw it over (CB Leonard Johnson) head. Eddie (Royal) was there and I saw (Johnson) the whole time. (The ball) just kind of stayed in my hand longer than I wanted it to, and took a nose-dive right to him. In hindsight, I wish I would have thrown it over his head, but I probably just shouldn't have thrown the ball, period. Make it, kick a field goal and tie it up. This game is played in quick decisions and I made the wrong one there."
(On turnovers this season)
"Those things are happening on the run and in live action. It's a humbling game because it just shows how one play – essentially one play – can ruin a game and cost a game. Other than that, on the other interception, I wish I would have just thrown it a little further. It was either that or a sack and it was third-and-30 and I was just trying to give D.A. (Danario Alexander) a chance. Other than that play, we played about as good of an offensive game as we have all year. We killed ourselves on the interception for a touchdown and the two possessions before because we were rolling pretty good most of the game."
(On the team's loss despite big plays)
"Yeah, two negative plays for touchdowns: there was the interception for a touchdown and a blocked punt for a touchdown. If you spot a good team 14 (points) at their place, it's tough to win."
(On San Diego's scoring drive following the blocked punt)
"This game is four quarters. You play really good for 58 minutes and have a couple of bad minutes and you lose. That's the way it goes."
WR DANARIO ALEXANDER
(On how his role has changed since coming to San Diego)
"I feel like I got to do my job. They brought me in to try to make plays. That's what I come in and do every week. I come in and work hard and try to be on the same page as Phil (Rivers). It's a good thing to know that they have the confidence in me to actually give me the ball. It's a big deal for me."
(On his 80-yard touchdown)
"It felt great. It was the first drive and we wanted to come out and start off fast. They called a snap for me and I wanted to make the best of the opportunity."
(On expecting to have such an impact after being signed in early October)
"Not really, but I knew that if my number was called, I was going to make every play I could make. I'm just doing my job and just trying to be the best team player and try to get this team some wins."
(On if he had any nerves when making some key catches on third down)
"I'm just out there having fun. That's the main part. If you're having fun, the nerves really won't be there. So, I'm out there just trying to play my best game and just have fun."
(On how the team recovers after a tough loss)
"We have to come back and do what we do. We just have to work hard throughout the week. I feel like this team, we're pretty good mentally. It's going to be a fun week."
WR MALCOM FLOYD
(On the play of the wide receiving corps)
"We did a good job of moving the ball up and down the field. I think the receiving corps, today, we did a lot but it just wasn't a winning performance."
(On mistakes that come up in close games)
"I just got to play better. There were a few mistakes, a few miscues with Philip; I just got to work those out."
(On the play of WR Danario Alexander)
"He's doing a good job. I'm happy, but as long as we have a good quarterback, everything's going to be all right. He's going to give us the ball; he's going to give us an opportunity."
RB RONNIE BROWN
(On mistakes costing the team)
"I like to think it's making mistakes at the wrong time. I think we all know what we need to do and what needs to be done to win a football game. At the same time, we're still kind of getting the same mistakes, which is tough especially against a good football team. It's hard to win like that, and you're on the road. We just got to get it corrected, no ifs, ands, or buts. Everybody on the team, as a human, as a force, as a football team, we got to get it right."
(On being 4-5)
"It's not a good situation to be sitting here at 4-5, but, at the same time, there's a lot going on around the league and I still feel like if we play the way we can, I still think we have an opportunity. There are a lot of other teams in similar situations with losses in our conference, so we just have to take care of our business and not worry about what everyone else is doing (but instead) worry about the San Diego Chargers."
(On problems with the team)
"It's just execution. I don't think it's individuals, I think it is just the execution part of it. I think if we do it right, (then) we are still okay doing what we are doing. I feel like this is a good football team, in terms of Tampa Bay, and they got on the road the past few weeks. In the first half we were able to execute and we were up. Then, in the second half we don't execute and you see the results of that. I don't think it is the guys (or) that we don't have the talent as much as it is the execution part of it."
RB RYAN MATTHEWS
(On the play that injured Tampa Bay LB Quincy Black)
"It sucks. We're competing and everything, (but) you don't want to see anything happen like that. We are all professionals and we are all trying to make a living off of this and to see someone go down like that it sucks. I'm going to pray for him. I didn't know at first (that the injury was serious). I was kind of in my own little world for a second, and I got over there and he wasn't moving, so, after a couple of seconds, I knew something was wrong. It's sad, (and) it just sucks to see something like that. I'll say all my prayers and everything to go out to him and his family."
S ERIC WEDDLE
(On the key to slowing down the offense)
"The key is just to play solid defense – eleven guys trusting each other. We played well against the run and we have all year. The (Buccaneers') big plays kind of hurt us, so unfortunately it's a tough loss."
(On the San Diego defense in the fourth quarter)
"I think (the fourth quarter) is where you have to be at the top of your game – completely focused. Any mistake is magnified 100 times because it's that meaningful of a game. We just turned the ball over and gave up a touchdown in the fourth quarter. We did not play well as a team. We need to keep grinding. It's not a talent issue; we just need to make the plays in the fourth quarter. When we do, we win the game and when we don't we obviously lose. We need to keep believing. It's going to be a tough week, but all you can do is put your head down and keep working."
(On whose responsibility is it to turn the game around)
"It's everyone. It's a team. It's not person who loses this game or one person that wins a game. We win or lose together. I won't go out pointing fingers – I could have done better. I will see what I can do better first before I start pointing fingers. When each guy takes it like that and everyone does in here, no one is going to call each other out. We'll get through it. That's the drive in us and we have to have that."
WR DANARIO ALEXANDER
(On how he is feeling after injuries)
"I'm feeling pretty good. I'm pretty confident in my talent and what I can do. The main thing is just staying healthy and if I can do that, everything will come."
(On having a solid individual performance in a loss)
"It is tough. It's always good to get a win. Having a good day is okay, but having a win makes it even better."