The Bucs Have A Winning Record
November 11th, 2012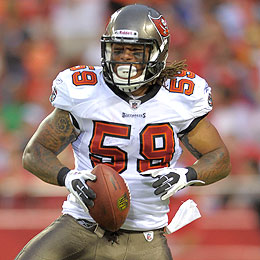 Last year at this time, Joe had no clue when or if the Bucs would ever have a winning record.
But here we are on Veterans Day, 2012, and the Bucs have a winning record. Hard to believe, but it is true.
This was not lost on Bucs middle linebacker Mason Foster when Joe spoke with him after the game.
"It is exciting," Foster said. "We are playing good but we know we can get better. We have a young team. Young defense. I feel that everybody is hungry and everybody is making plays. We just have to keep getting better each and every day, each and every week and we are going to be alright.
"We have a lot of young players. We have to keep putting things together."
It's not just the winning record the Bucs possess, but they are truly in a playoff hunt. The Bucs are 5-4, past the halfway point of the season.
The Bucs travel to hapless Carolina next Sunday. It's not beyond the stretch of the imagination that the Bucs will be 6-4 entering the Thanksgiving Weekend home game against the Dixie Chicks.
Two games over .500 at Thanksgiving? Based on watching that drek last year, who would have thought?