Leonard Johnson Hires Maids
November 12th, 2012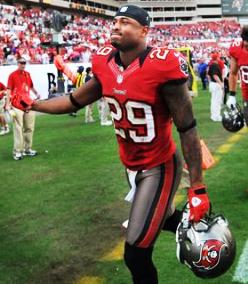 Now, yeah, the headline shouldn't shock you. An NFL player hires a maid. Hell, Joe has hired a maid before (and no, not for the reason you are thinking! The maid cleaned Joe's abode once.)
But this is a bit different. Bucs cornerback Leonard Johnson likes to keep his ego in check. Despite graduating from college and playing in the NFL, Johnson still lives at home in Clearwater. With his mom. In a not-so-safe neighborhood. And sleeps in the room he grew up in, on a twin bed no less.
Johnson spoke with the great Mike Florio Sunday night, the creator, curator and overall guru of ProFootballTalk.com, and told Florio that while still living at home, despite being a big shot NFL player now, his mom still orders him to do chores around the house for rent.
But Johnson, savvy that he is, figured out how to get out of doing housework.
Off the field, the right place has been the place there's no place like. Johnson, who went to high school in the Tampa area, has been living at home with his mother.

"It keeps me grounded and keeps me humble," he said. "Mom is there to tell me what to do."

Among other things, his mom is telling him to do chores. "I got smart," he said. "I have a couple of game checks in the bank, so I hired maids to do them."
Hey, Johnson is a smart guy. For some reason, Joe cannot see Johnson winding up on an ESPN 30-for-30 show called "Broke."
Yeah, Johnson could probably go out and buy a house, or certainly rent a posh apartment. But why do that when he can live at home and save cash? Also, a lot of NFL players like to wear bling. Not Leonard, save for an earring.
Johnson is a good dude, which makes Joe even happier that he is excelling for the Bucs.