Is "Teo" A Budding Stud?
November 20th, 2012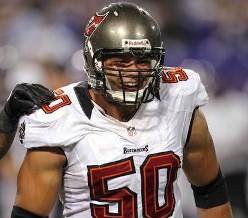 Bucs rock star general manager Mark Dominik has a knack for pulling guys off the street that, with the proper coaching, excel.
There's Donald Penn, there's Demar Dotson, there's Michael Bennett, all guys who were someone else's trash, now Bucs treasures.
Could defensive lineman Daniel Te'o-Nesheim, plucked from the Eagles practice squad, be the next in line? If one wraps his arms around the analysis from the ProFootballFocus.com crowd, Te'o-Nesheim (can we just refer to him as "Teo?") is a diamond in the rough, just based on his performance at Carolina Sunday.
There were few plays in this game when the Tampa defensive line didn't disrupt the Panthers' front. Pressuring Cam Newton on close to 60% of drop-backs, the combination of Michael Bennett, DaQuan Bowers, Gerald McCoy, and Daniel Te'o- Nesheim routinely took advantage of Carolina's offensive line. They especially caused problems for the Panthers' interior, though the damage wasn't limited to the inside with five of the six Panthers who played snaps up front receiving negative grades in pass protection.

Te'o (+4.3) had the most complete game of the aforementioned linemen, with four quarterback disruptions and an additional three stops against the run. The bigger story, though, might be the play of Bowers. In just his fourth game back from an Achilles injury, the second-year defensive end recorded five pressures in just 22 rushes — that's once every 4.4 snaps rushing the passer. If Bowers can keep this up and remain healthy, what's been a formidable defense could become downright scary as they hit the home-stretch of the season.
Just like the offensive line has been greatly helped by backups filling in for injured stud players, so too has the defensive line been aided by backups. The loss of defensive end Adrian Clayborn stung the Bucs and greatly concerned Joe. But Teo's play has sure eased the discomfort.