How Dominik Saved Freeman And The Bucs
November 20th, 2012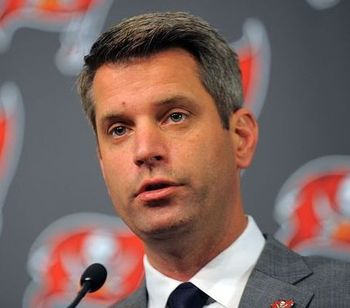 To gain perspective on how far the Bucs have come in less than a year, one only has to be reminded of the 2011 horror show that was passed to innocent Bucs fans as NFL football.
The defense was worse than atrocious, franchise-worst. The offense couldn't score in a Colombian brothel with a fistful of C-notes and privacy ensured by U.S. Secret Service agents.
It was as miserable as miserable gets. Raheem Morris, rightly, was jettisoned just hours after the final game. One could argue Bucs rock star general manager Mark Dominik was somewhat contempt as well, but he survived the purge.
Dominik knew he was on thin ice. General managers often get two chances (two head coaching hires) to work with to show some progress or they too are shown the door. Having put his neck on the line to draft Josh Freeman — he was guided in the pick by Morris — Dominik, as Chase Stuart of the New York Times points out, went out to save Freeman's career which also saved Dominik's gig and, in turn, saved the Bucs.
If Freeman's career had continued on this downward trajectory, Dominik would have become collateral damage. So in the off-season, Dominik rebuilt the team with a clear vision: he wanted an offense built around a strong running game complemented by a deep passing attack.
So Dominik went out and got the best wide receiver on the market, a team-first guy who would teach the young Bucs receivers how to be professionals. Then Dominik went out to make sure Freeman would be upright, and got Nicks (thank you greedy Drew Brees) and finally, traded up in the draft to make sure Freeman had a reliable running back to take heat off him, Doug Martin.
When Dominik said last year that it was all about No. 5, he was right. Because if No. 5 failed, the Bucs would fail and Dominik would be left groveling for work.