"I Call Him Doug."
November 20th, 2012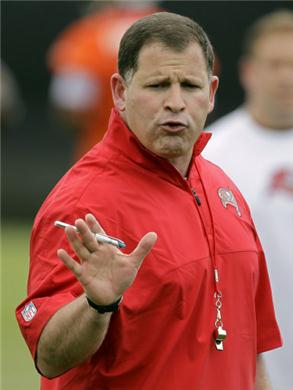 So finally someone decided to ask Bucs coach Greg Schiano about the moniker for Bucs running back Doug Martin that has caught the attention of the nation and beyond: "The Muscle Hamster."
Appearing on "NFLAM" this morning seen only on the NFL Network, Schiano was corned by panelist Steve Wyche about what he thinks of Martin's nickname, and Schiano broke out in a broad smile and gave the greatest political answer to date:
"I call him Doug."
Schiano also talked about what the learning curve he has experienced coming from Rutgers to the Bucs.
"There is always a learning curve," Schiano said. "Fortunately I had some experience coaching this league back in the late 90s so I had some frame of reference but it is a totally different deal when you are a head coach as opposed to a position coach."
Schiano was also asked about the things that surprised him in his rookie season as head coach. "Two things: the talent level of the players, the quality of athletes and the [media] coverage that this league gets and all the outside calls on your time. But both of those things are easily manageable once you understand your time."
Joe thought it was pretty funny how Schiano dodged the "Muscle Hamster" question, but Doug, embrace it. It's cool and you could make loads of cash off of this thing.