Bucs Won't Miss Aqib Talib
November 1st, 2012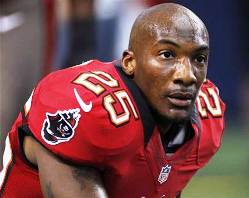 Joe has never before seen throngs of Bucs fans go nuts over a guy so grossly overrated, so horribly inconsistent.
Whenever Joe suggested troubled, helmet-wielding, cabbie-slugging, pistol-shooting (allegedly), Adderall-popping Aqib Talib's days with the Bucs might be over, the way a good number of Bucs fans reacted, it was if the Bucs were unloading Night Train Lane or Rod Woodson.
This just in: The Bucs have a winning record when Talib is unable to play, whether by injury or suspension.
Against good quarterbacks and good receivers, Talib was seared like a porterhouse steak on a grill at a Fourth of July weekend backyard party. Calvin Johnson shamed him. Eli Manning lit him up like a roman candle, to name a few.
Talib, now that he was playing for a coach that wouldn't coddle him and allow him to cuss out said coach in a London lobby in full view of the public after blowing off curfew, simply couldn't deal with all the drama for such little play.
If you are a horribly inconsistent, average cornerback on a team with (at the time of his suspension) the NFL's worst pass defense, then really how valuable can one be?
And away Talib goes. The hammer of the New Schiano Order has come down and it has come down hard.
Joe's going to guess that Eric Wright will not sleep well tonight.