Bucs Getting Some Love Nationally
November 19th, 2012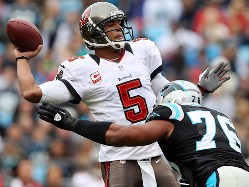 Peter King's back-handed compliment of Bucs quarterback Josh Freeman notwithstanding, Joe knows many Bucs fans want national media types to give the Bucs a big ol' bear hug as much if not more so than a win.
This has always puzzled Joe, but he just shrugs his shoulders. This is too nice of a day to ponder such heavy subjects.
So Joe brings this little nugget from Maoist Michael Silver for your dancing and reading enjoyment. Unlike King, Silver is starting to drink the Freeman Kool-Aid, so he wrote on Yahoo! Sports this morning.
4. The Bucs, who fought back from a 21-10 deficit with six minutes remaining in regulation, have won five of six to join the Indianapolis Colts as the 2012 season's most pleasant surprises. Even better, Josh Freeman is starting to resemble the cool, consistently clutch and dripping-with-potential passer we saw in 2010.
Yes, as we saw yesterday, the Bucs will go as far as Freeman can take them. When he is hot (last few minutes of the game and in overtime), the Bucs offense is lethal.
When Freeman struggled, it was shades of 2010 and the offense was impotent.