Bucs Need To Sell 7,400 Tickets To Lift Blackout
November 19th, 2012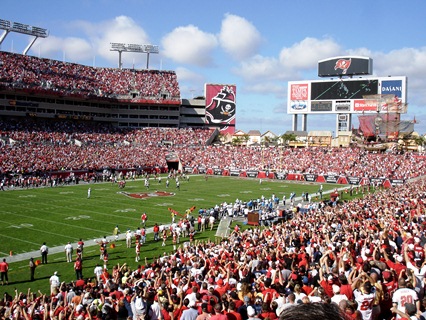 Maybe the Bucs beating a division foe in dramatic fashion in overtime has moved some Bucs fans to buy tickets. Per a missive from the Bucs official Twitter feed, the game with the Dixie Chicks is some 7,400 tickets short of the 85 percent non-premium plateau for lifting the NFL-imposed local TV blackout shroud.
@TBBuccaneers: About 11,000 non-premium tickets left to sell out Sunday's game against Atlanta and about 7,400 short of reaching the 85% to lift blackout
Joe will be interested to see if these tickets move on a holiday week. That might be a tough sell with so many fans out of town or already with a full docket of weekend plans.
Now before anyone uses the weak sauce, knee-jerk cry of "Why don't the Glazers buy the tickets?" How about asking a better question:
Often in other markets when a team needs to sell tickets, the local business community steps up and buys the remaining tickets left just before the deadline (Thursday, 1 p.m.) to ensure a local broadcast. Why hasn't the local Tampa Bay business community stepped forward to not just help fans, but countless bars and restaurants which will be otherwise packed with fans watching the game?
To date, that has never happened to Joe's knowledge in the past three years.
Or an even better question:
In other markets when a blackout looms, the local FOX/CBS affiliate will buy up the tickets. Since WTVT-TV Channel 13 is a FOX owned-and-operated station, that means Rupert Murdoch, the head honcho of FOX who makes Teams Glazer look like Joe he has so much cash, wouldn't even miss the paltry thousands it would cost to broadcast the game locally.
Again, neither the local FOX nor CBS affiliate does this. Joe has an idea why: if either station thought it could make some cash doing this, they would have pulled the trigger to lift a blackout already.
So instead of being lame and whining about the Bucs owners, why not direct your ire at those in the community that, unlike in other NFL markets, haven't/won't step up to the plate to help out local Bucs fans.
Sometimes, it's just too easy blaming the local pinata, Team Glazer.