"He's Got Rules For Rules"
October 4th, 2012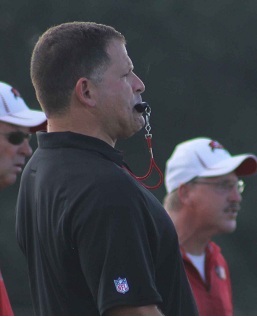 Discipline is important.
Does extreme discipline win games? Well, the talented Bucs will find out this season under the New Schiano Order.
Jarrett Bell of USA Today caught up with Bucs icon Ronde Barber recently and asked him to describe his various leaders. The "D" word came up when No. 20 got to Schiano.
Tony Dungy was the humble leader. "You wanted to succeed for him more because you didn't want to disappoint him," Barber said.

On Gruden: "The most fiery guy I've ever been around. He wanted everyone to be in his image on the football field."

On Morris: "The most passionate players' coach I've ever been around. He loved his guys. He treated them like they were part of his family."

Schiano? "Disciplinarian. That's the best word for him. He's got rules for rules."
As Joe's written many times, Joe's fine with Schiano's approach. In fact, Joe's pretty much good with any approach as long as it translates into victories.