Showtime For Aqib Talib
September 9th, 2012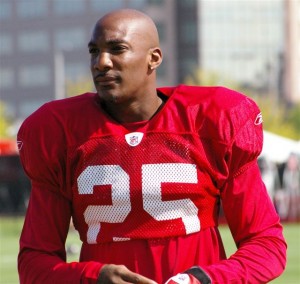 Dubbed the "wild child," by Raheem Morris way back in 2008, Bucs fans have been patiently waiting for Aqib Talib to get his act together on and off the field since he joined Chucky's Bucs that season.
Talib has never met his Pro Bowl potential.  He's been plagued by hamstring woes and an ugly hip injury, plus he's clubbed teammates and slugged cabbies, lashed out at media and been dragged down by felony criminal allegations and civil suits.
But a new Talib is on the scene now. He's got no dark cloud of trouble over his head. He's thoroughly committed, say coaches and Ronde Barber. He's healthy. And he's in a contract year.
It's showtime for Talib. There are no more excuses. If there are, Joe doesn't want to hear them. He's 26 years old in the prime of his career. A great season from Talib will make the Bucs a dangerous defense, assuming they're no longer a sieve against the run. Talib has to step up or else the Bucs surely will be drafting another cornerback in April.