Ball Security In The Spotlight
September 9th, 2012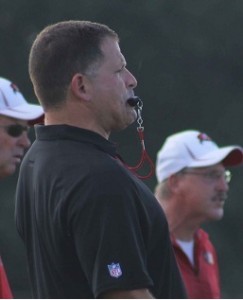 Priority No. 1 for the leader of the New Schiano Order is ball security. Greg Schiano likes to say the whole game is about "the ball," and he's said that penalties and all ball-security issues fall in his executive lap immeidately following games and practices.
The Bucs worked tirelessly on protecting the football during practices and training camp. Those with the ball have to "bite" it. And there is no slacking allowed at any time. Returners must catch with proper form, high and tight.
Today, this all comes into the spotlight, with what will be a sloppy home-0pener under rainy skies on Dale Mabry Highway.
Players rave about their preparation under the New Schiano Order. Joe will believe that if the Panthers out-fumble the Bucs.