Schiano Wants Blount To See More "Action"
September 26th, 2012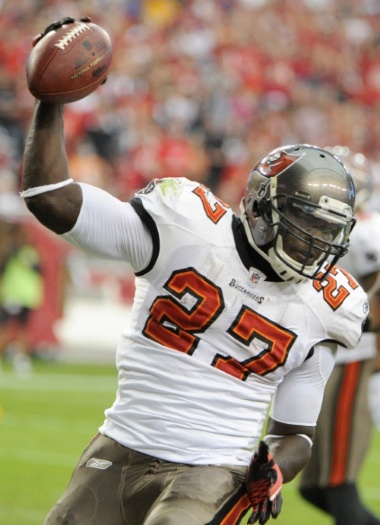 The leader of the New Schiano Order held court before the Tampa Bay pen and mic club today to discuss all things Bucs. The very first question lobbed at Schiano was about the Bucs' sluggish running game.
Rookie Doug Martin has had the lion's share of the carries, almost all up the gut, in-between the tackle, not for much yardage.
Against Dallass it seemed the Bucs were bound and determined to break Martin through the interior of the Cowboys' line, to no avail.
Help may be on the way, Schiano said. While he admitted the Bucs haven't run the way he wanted — Schiano fingered blocking as a culprit — Schiano hopes to get LeGarrette Blount more touches in the rushing attack.
"I think with LeGarrette, we need to get him more involved," Schiano said. "But [the Bucs are] not thinking of making any changes [to the lineup] or the way we are doing it. Just give [Blount] a little more action. The whole thing with the injury and we weren't sure what it was, it threw things into flux a little bit. I think he is practicing well now and is ready to go. So I think we will have a good one-two punch like we envisioned early on. That is what my hope is."
Schiano quickly explained this is not a swipe at Martin in any way, though Schiano did say the Bucs need to block better for both running backs.
Martin is "running hard, running well, but I don't think we have done as good of a job of blocking as I felt we were going to be able to," Schiano said. "You have a vision and then you lose [right guard] Davin [Joseph] and that throws it into a little state of flux and you start a new guy at tackle. I think we will clearly get better as we move forward. These guys, [the Redskins, Sunday's opponent] will try to crowd the box. It is going to be upstream to run the football. We will have to be really perfect to be able to gain yardage running the football."
This is good in Joe's eyes. Schiano wants a two-headed monster to attack opposing defenses and the more he plays, say Blount, the better it will be for Martin, who has taken a pounding so early in the season, when he hits that rookie wall.