Unlock The Chains
September 27th, 2012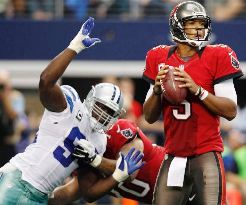 There are good things thus far in the early season about the 2012 Bucs.
Last year, the ole' defense was no less than revolting. Lawn chairs could have tackled opposing runners just as easily (and, Joe might add, cheaply).
Bucs coach Greg Schiano has turned that defense around. Now the Bucs have the best run defense in the NFL (the pass defense, well, Joe will skip for this post).
Now if the Bucs only had an offense to go with that run defense, this team could be something special. The offense has been, well, like a stunted Woody Hayes offense, two yards and a cloud of field turf pellets.
Tampa Tribune humorist Martin Fennelly believes, if one is to read between the lines, that Bucs quarterback Josh Freeman is being held hostage by the Bucs offense, and that the tightening of the noose is doing neither the Bucs nor Freeman any favors.
All those extra pieces they picked up this offseason, from free agency and the draft, were supposed to help surround Freeman with what he needed for an accurate answer to the question: Which is the real Freeman, the 2010 Josh who threw all those touchdowns in 2010, at his best with the game on the line, or the 2011 Freeman who threw all those picks?

How can we get any kind of answer out of a game like Sunday in Dallas?

The Bucs have been competitive in all three of their games, but Freeman is going to have to be freed up more if the Bucs want to be the ones kneeling down at the end of games. I don't see how turning No. 5 into the day watchman for this offense is getting the most out of him.
That's pretty much accurate. Freeman, for lack of a better phrase, is little more than a traffic cop. And when one needs to make an arrest of an armed criminal, a traffic cop is not usually the first to turn to.
Look, Joe understands that Freeman is learning a new offense and that it takes time (spare Joe the Alex Smith analogies). And Joe also gets that Schiano has irritable bowel syndrome when it comes to turnovers; so does Joe.
Freeman is gifted with both a cannon for an arm and legs. How about having him run controlled rollouts periodically so he doesn't have such a bulls-eye on his back from defensive ends and blitzing linebackers?