"People Are More Scared Of Him Than Anything"
September 7th, 2012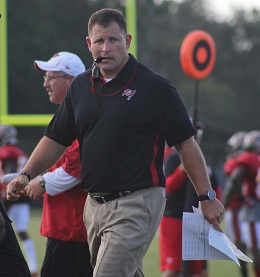 Are Buccaneers afraid of the Panthers? Afraid of the IRS? Afraid of what those girls running around Blue Martini might be carrying?
Nope. Lots of Bucs tremble at the thought of letting down the leader of the New Schiano Order. Roy Miller explained to beat writer Rick Stroud in a piece published by the Sarasota Herald-Tribune.
"I don't think any team, any player could frighten us more than messing up for (Greg) Schiano," defensive tackle Roy Miller said of the Bucs' head coach. "I think we all want to do exactly what he tells us to do. People are more scared of him than anything. That's a good thing."
Well, it's clear that order is in full swing on the Bucs, and there's a wave of healthy fear rumbling through the locker room at One Buc Palace right now. Whether it will equal wins or not is a mystery.
Speaking on WDAE-AM 620 yesterday, Derrick Brooks talked about how much he loves Greg Schiano's commitment to his ways. Brooks' only concern was what might happen to the Bucs if players defect from the current buy-in after some losses. Schiano won't change, Brooks said, but the roster might have to.