Cam Newton Worried About Cam Newton First
September 6th, 2012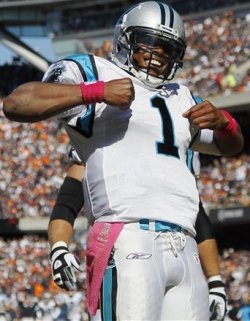 Panthers all world quarterback Cam Newton is not shy of confidence. Given what he has done on football fields the past two seasons, both in the NFL and in college, no man could pull off those same feats if he didn't have a bit of an air about him.
And while Newton is concerned about the Bucs, and the Bucs defense, he's more concerned with how he and his fellow offensive mates perform on Sunday to open the 2012 season.
"It's all about execution," Newton said of the Panthers' gameplan against the unknown, the Bucs new defense with a new coaching staff. "It is somewhat of a challenge, not just a whole new scheme but you wonder how they will attack us. That is our challenge.
"But we just have to execute the plays that are given to us."
Newton was pressed a bit later, asked if maybe the Panthers will be walking into a lion's lair, a revenge trap of sorts given how the Panthers manhandled the Bucs last season. Newton calmly dismissed that notion.
"It is not about what the opposing team does; it is about how we do, how we execute, how do we do the things we know what we are [capable of] doing," Newton said. "It all comes down to accountability."
Newton also dismissed distractions. While the Democratic National Convention has downtown Charlotte on lockdown, preventing the Panthers from getting about, the team decided to work out all week in Bradenton at the IMG Academies to escape the crush of security in Charlotte, and perhaps get a little acclimated to the hot and humid Florida weather as well.
For Newton, this week is no different than other weeks.
"No, it's not a distraction," Newton said. "There is no chaos. This is the NFL and you have to prepare in a different environment almost every week. It's no different than traveling anywhere to prepare for another team."
If Newton has any pause when it comes to the Bucs, it is when he is on the sidelines and Bucs quarterback Josh Freeman is directing the Bucs offense. Newton admitted to being a fan of Freeman's.
"I respect everything Josh Freeman does," Newton said. "He has a big arm, big talent. I'm pulling for him and I look for a great upcoming season [by Freeman]. I expect great things from him."
As far if Newton plans to slash through the Bucs defense with his wheels, one could almost see the smile on Newton's face as he said, "You will just have to watch the game and see."