Nicks Would "Love" To See More Blount Carries
September 25th, 2012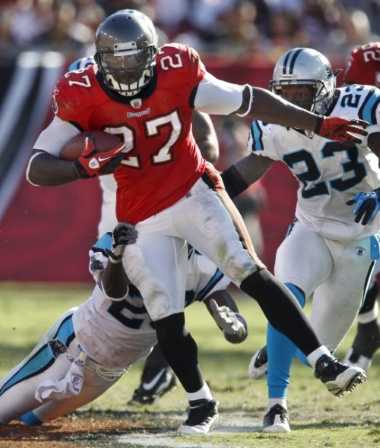 There's a pattern developing here, and if one is to believe what one sees and what one hears, the non-stop pounding of rookie running back Doug Martin between the tackles isn't getting the job done.
(Now before haters go wilding, let Joe emphasize that he really, really likes Martin. What is there not to like about the Bucs' Muscle Hamster?)
Martin is averaging 3.4 yards a carry which, in NFL circles, is almost OK. Meanwhile, the running back so many locals love to loathe, doghouse-living LeGarrette Blount, has scant carries this season, despite his 4.6 yards a carry career average.
In one of the few times Blount touched the ball Sunday at Dallass, he broke off an 11-yard run and damned near leap-frogged for much more.
Bucs coach Greg Schiano prior to the season spoke in whimsical terms about having a two-headed monster of a running game with Martin and Blount. That hasn't been the case.
Bucs roadgrading left guard Carl Nicks wishes it was so. Speaking on "Total Access" yesterday, heard on the Buccaneers Radio Network flagship station WDAE-AM 620, Nicks was asked if he would prefer the Bucs use a two-headed running attack to try to mix things up and hopefully spring the running game.
Nicks, though he initially hesitated to answer the question out of fear of hurting someone's feelings, agreed. Emphatically so.
Chris in Bradenton: It seemed like very similar plays are being called over and over. I have a question: Would you like to see a two-back system like what Carolina runs, utilizing Blount more often, a more even split in the carries? Do you think that would have helped in the [Dallass] game?

Carl Nicks: I find myself in kind of a predicament answering that question, but, being how I am a little older, I am just going to keep it real with you: I would love to see that, have Blount and Doug share carries, kind of mix it up, thunder and lightning as I like to call it. I would absolutely love to see it. Love to see it.
Joe is starting to wonder if the false rumor about Mark Schlereth doesn't actually apply to Blount. Sure, Joe knows he can't block. Understandable, but damnit, when the guy gets warmed up he can break loose; but not if he is given the ball two or three times a game.
Look, again, Joe likes Martin, but as much as he is pounded between the tackles, Joe fears when Martin hits that inevitable rookie wall, he's going to hit that wall hard.
That is not a good thing. Lightening the load a bit for Martin and allowing a guy who averages over four-plus yards a carry to get warmed up doesn't seem to Joe to be treasonous.
To hear the entire Nicks interview, click on the little arrow below.