"Get It Through Your Thick Skulls"
September 25th, 2012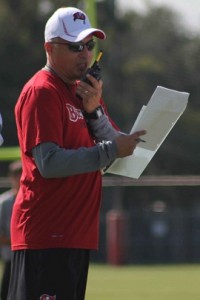 Joe loves the passion and true love of the Bucs that Justin "The Commish" Pawlowski brings to his commentary during the Gary and The Commish Show on 98.7 FM each weekday.
The Commish bleeds pewter and red, and he bled orange going back to his days as an oversized infant in Tampa 30 years ago.
So it's no surprise that The Commish still has smoke poring from his ears when he thinks about the Bucs' playcalling against Dallas on Sunday. And that's the reason why today he was bellowing through the airwaves, "Get it through your thick skulls!"
Commish was absolutely enraged that Mike Sullivan and company didn't take repeated shots down the field. And not because Dallas was down to playing two backup safeties, but primarily because the replacement officials are calling all kinds of pass interference penalties this season and the Bucs repeatedly were drawing man-to-man coverage on the outside.
Per The Commish, it's just criminal foolishness that the Bucs didn't look to capitalize on that opportunity.
Joe finds the angle of the replacement refs intriguing. But even without that, it was mind-boggling that the Bucs didn't do more downfield. All those first- and second-down runs should have set up at least a few more deep shots.