Did The 2010 Freeman Emerge?
September 17th, 2012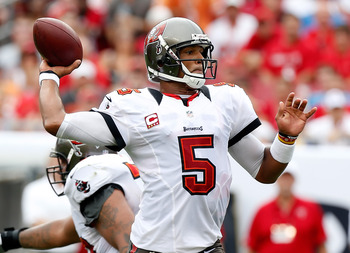 Josh Freeman was quick to call his interception with seconds left in the third quarter a "bonehead" play after Sunday's Giants-Bucs game.
And it was ugly Freeman. It was the force-the-ball into Kellen Winslow Freeman fans were tortured by last year when No. 5 led the NFL in interceptions.
But Joe has to focus on what Freeman delivered in the fourth quarter as encouraging. Down a touchdown with four minutes left and momentum completely owned by the Giants, Freeman was clinical with three passes to Dallas Clark before uncorking a monster, 60-yards-in-the-air throw to Mike Williams for a touchdown. That's the fourth-quarter magic and fearlessness Freeman delivered in 2010.
Then down a touchdown again with 31 seconds left, Freeman rips off tight throws to Vincent Jackson and Williams, who was sickeningly robbed by officials' overturning his catch at the Giants' 16 yard line. Regardless of the call, it was another 2010-like, fourth-quarter precision throw by Freeman.
Joe's taking Freeman's obvious confidence late as a great sign. Not enough for a win yesterday, but the guy who made his mark on the NFL in 2010 as the comeback quarterback showed signs he's still got those heroics in him.