PrimeTime Insult
September 17th, 2012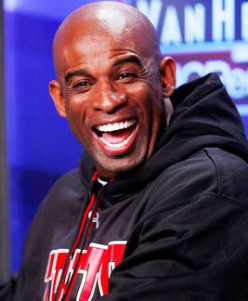 Deion Sanders didn't mince words on the NFL Network after the Bucs-Giants game. He didn't like anything about Greg Schiano defending his edict to the Bucs to play 100 percent through the kneel-down of Eli Manning to close out the Giants 41-34 victory Sunday.
NFL Network rolled tape of Schiano saying he coaches clean, hard football for 60 minutes. And then Sanders cut in with his disgust.
"That don't work. That's ignorant. That doesn't work. It's unwritten rules in the NFL and you abide by them," Sanders said. "He's a young coach coming up trying to establish credibility and credential with his players saying, 'Guys, we go whistle to whistle.' That don't work in the NFL."
Here's the tape of the exchange.
Joe had no problem with the Bucs' actions on the final play, and Sanders calling Schiano's comments "ignorant" crossed a line. It's ironic to Joe how Sanders, who loved to showboat and humiliate opponents, is lecturing on unwritten rules of the NFL.