Cash-Committed Bucs Among Top-8 Spenders
September 8th, 2012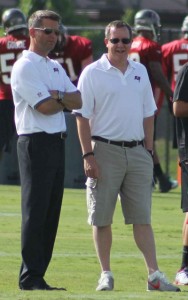 Joe's not big on payroll accounting. It's boring. But it is somewhat interesting when it comes to the Bucs and the team's return to becoming one of the big spenders in the NFL, as they were in the early part of the last decade.
The dust has settled on team rosters, and CBS Sports NFL writer Jason La Canfora has compiled the latest league salary data. He reports the Bucs have "committed" more than $130 million in payroll for 2012, which ranks them among the top-8 spenders in the league.
The Buccaneers and Cardinals also top $130 million in committed cash for this season, with owners in the Glazers and the Bidwills who have been viewed by many as chronic under-spenders most years (and, to their point, had the Bidwills been willing to spend near these levels a few years back, and done the right thing to keep Kurt Warner and give him a contract he couldn't walk away from, the Cardinals would be in much better shape and wouldn't have had to throw money at Kevin Kolb). Arizona's situation was just like Detroit's; one player, in this case, Larry Fitzgerald, held the key to their offseason with a cap-killer contract for 2012 that forced a renegotiation. Fitzgerald became the highest-paid receiver in league history, and Arizona's payroll was on the rise a few years after the team was criticized for losing a host of key players in free agency.

Tampa Bay went on a Dan Snyder-esque binge that included Vincent Jackson, Carl Nicks and Eric Wright early in free agency, and cash was king with those contracts as well, with the Bucs putting up big money now in the deals but having protections against bloated cap hits down the road and without inflated salaries deep in the contracts.
You can't buy a great team in the NFL, so this is all somewhat meaningless. But it's good to hear the Bucs haven't saddled themselves with long term contract burdens. Hopefully, the Bucs' young players will perform and Tampa Bay will need every last nickel to re-sign them.